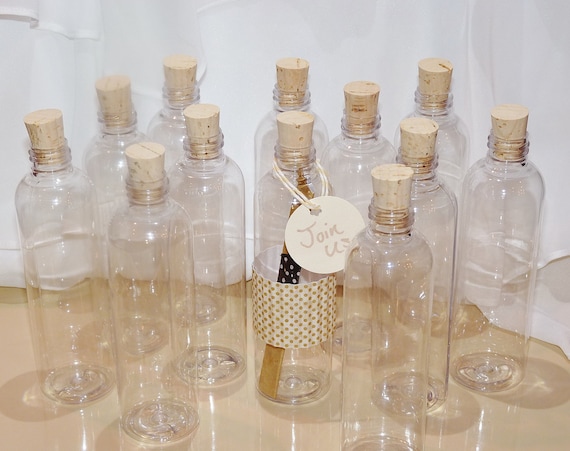 CORK BOTTLES - CLEAR PlaStiC FaVor BoTTleS (set of 20) -Ready To Fill with -LoVe Notes -PaRty InViTes-PiRaTe PartY-WeddIng-SoroiTY SeCretS
By Lola's FaNcY Party Shop
Product Info
The SECRET SoRoRity CLUB ! MaKe A Wish! A PiRaTeS LOOT !!! INVITATION MUST!
.the PaRtY FaVoR Full of WeLL WiShes and SECreTS Among BFF's !!!
you receive...CORK BOTTLES - CLEAR PlaStiC FaVor BoTTleS ...WITH CoRk! (set of 6)
20 count___ _ 5" tall to neck of bottle - set.6" to top of cork inserted - 1&1/2" width at bottom to full bottle capacity of 4 ounces.
************ ***EMPTY*** DIY ReAdY to FiLL *** ********************
**Hand WASH**
KrAfT LABELS and Bottle Label are available (Message Seller)!!! (SHOWN in PiX)
__ and__ FuN PaRtY Ribbons in Lola's FaNcY PaRtY Shop!!!
Getting Family & Friends Together is FUN !!! Don't Stress..."You Got This...!"
Enjoy Your Beautiful Celebration with
FaNcY Garnishes for Simply FaBuLoUs Parties :)
Have any questions? Contact the shop owner.