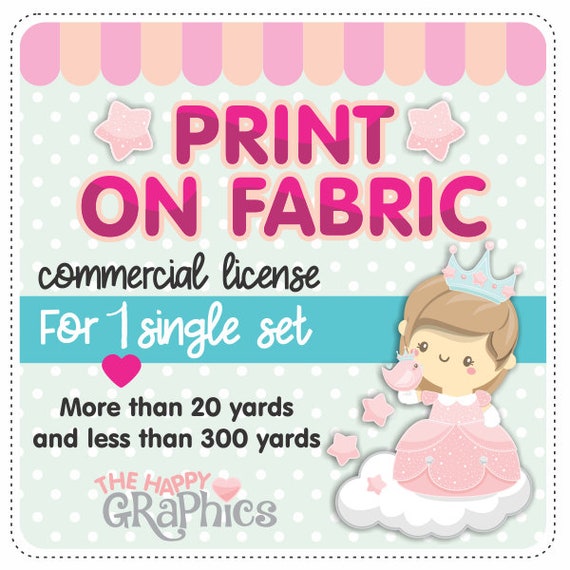 Commercial License for Use on Fabric, Commercial License for One Single Set, Mass Production, Commercial License, One Single Set, Fabric
By TheHappyGraphics
Product Info
Commercial License for Use on Fabric, Commercial License for One Single Set. License for Use ONLY on Fabric for ONE Clipart, Stamp or Digital Paper Set
❤ Thank you very much for respecting our work, It's fabulous ❤
HOW IT WORKS:
❤ You only need this Commercial License if you want the possibility for commercial use for ONE SINGLE SET and for more than 20 yards and less than 300 for fabric printed
❤ This Commercial License is for "MASS PRODUCTION" only for fabric printed
❤ This "Commercial License" is a great listing for you if you intend to sell printed products using our clip art, stamps and digital papers packs. It gives you ability to incorporate our designs in FABRICS for commercial use, but does not give you ability to resell/redistribute original item exactly as "is"
❤ This license applies to a "SINGLE SET", a separate commercial license must be purchased for each single set that you intend to use for commercial purposes (2 clipart sets require 2 Commercial Licenses, 3 clipart sets require 3 Commercial Licenses,for example). Please, purchase this License and digital product together, send me a convo explaining listing which digital product art this license will be used for. If you have purchased a set of graphics before and you now want to get a commercial license to cover your sales, leave a message on the purchase referring to the set of graphics you want the commercial license to be applied to.
❤ You CAN NOT resell or redistribute the original clip art, stamps and/or digital papers files but you can use it in an element of your fabric printed
❤ You CAN NOT give our designs for free download because some people paid for these designs and it would not be fair to give them away for free, I hope you understand :)
❤ You CAN NOT use our clip art, stamps and/or digital papers like a logo or part of a logo, if you want a logo with our graphic style I can design one for you. Please go to this link: https://etsy.me/2Gd8OM3
❤ You don't need a Commercial License for less than 20 fabric printed. In this case you have to give credit to TheHappyGraphics in your design including a url that links back to http://www.TheHappyGraphics.Etsy.com. The link should be placed on the same page as the product that is being sold or displayed
❤ But, If You want to use our work WITHOUT CREDIT you must Purchase this COMMERCIAL LICENSE
❤ This Commercial License is not transferrable and not refundable* We don't make refunds for the digital nature of the purchase (digital files instant download)
❤ This Commercial License does not include the Clip Art, Stamps, and/or Digital Papers. You must to purchase the sets separately
❤ No physical documents will be sent to you
❤ TheHappyGraphics reserves the right to modify the Terms of Use for this shop at any time without giving you prior notice. Your use of our shop after any such modifications is your agreement to follow the Terms of Use as modified
---------------------------------------
Please don't for get read our "Shop Policies" at the bottom of the homepage.
-----------------------------------------
CONTINUE SHOPPING HERE ★ www.TheHappyGraphics.Etsy.com ★
-----------------------------------------