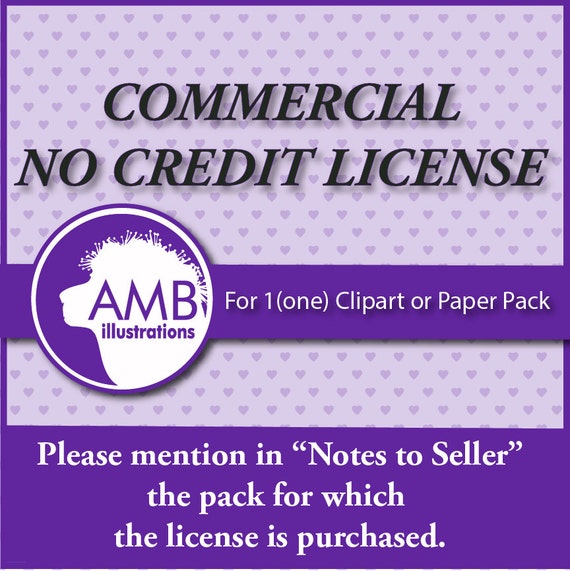 Commercial no credit license for clipart, vector graphics, digital papers, instant download AMB 001
By AMBILLUSTRATIONS
Product Info
PLEASE INDICATE FOR WHICH PRODUCT YOU WANT THE COMMERCIAL LICENSE APPLY, BY WRITING THE CODE, AT THE END OF THE PRODUCT TITLE, IN THE "NOTES TO SELLERS".
This license is for the small business / home base crafter to use AMBILLUSTRATIONS with no credit given back to AMBILLUSTRATIONS.
This is a license for small commercial use and does not give the right to high volume commercial production, please see store policies.
This license is good for 1 (one) single clip art pack or 1 single digital papers pack.
A new license needs to be purchased for each and every set you wish to use with no credit.
For example: If you wish to use 1 (one) set with no credit then 1 (one) license needs to be purchased. If you wish to use 2 (two) sets with no credit then 2 (two) licenses need to be required. If you wish to use 3 (three) sets with no credit then 3 (three) licenses need to be purchased and so on.
COMBO-TRIO-MEGA PACK LICENSES
You must purchase;
2 Licenses for a COMBO (2 Product) PACK
3 Licenses for a TRIO (3 product) PACK
4 Licenses for a MEGA (4 product) PACK
etc ...
NO CLIPART OR DIGITAL PAPERS ARE INCLUDED WITH THIS LICENSE, clipart must be purchased separately from us.
License is not transferrable and not refundable.
This is not an extended quantity license please adhere to the standard policies in AMBILLUSTRATIONS policy section for allowed uses. This license allows for up to a maximum of 250 units.
If you do not purchase this license you must credit AMBILLUSTRATIONS in your products and designs.
This license is for the use of our products without credit. For an extended quantity license larger than 250 units please contact us at [email protected]
IMPORTANT: When making the purchase for this license please list which set of clip art this license will be used for.
Have any questions? Please free to contact us.
For more information see our shop policies on our shop home page
https://www.etsy.com/shop/AMBillustrations
© AMBillustrations 2016