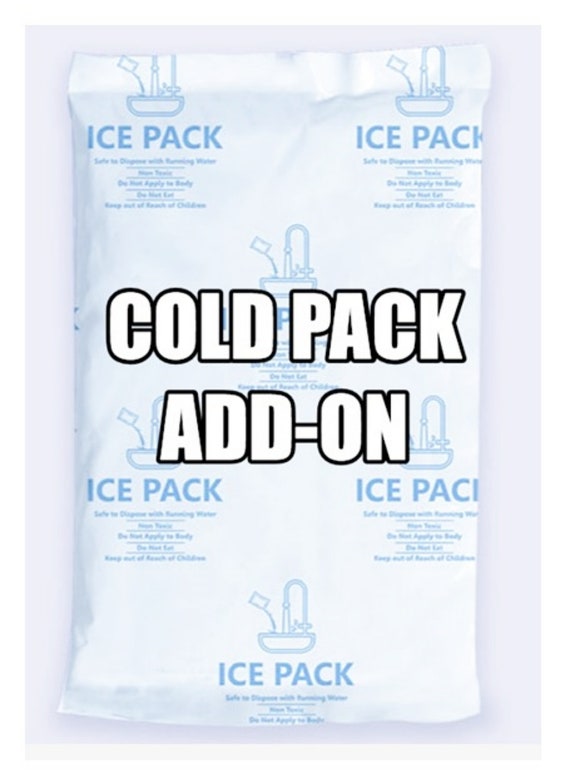 Product Info
You can choose which of these additional packing components you would like to add to your existing order is you want some added protection from the heat, and to stop or substantially reduce the chances of your items melting or being adversely affected by heat. You can purchase more than 1 cold pak, to add cooling to your package.
Please note: As much as we try to help keep your order safe from melting or having adverse affects to to heat, once a package leaves our hands, it is not our responsibility or liability should your package arrive in less than perfect condition. This is because we cannot control how long a box is kept in specific locations, such as trucks, planes, warehouses, or how long the box sits in any of these areas. We do not know what your package will be subjected to, including how long it is exposed to heat or how high the temperature is where ever your package is in transit. As a result, we will not refund, replace, exchange for any damages caused to your order.
The cold pak only will help to keep your items cool, but may not prevent melting or any heat related adverse affects.
The thermal liner only will help to deflect heat from your items, but may not prevent melting or any heat related adverse affects.
The cold pak and thermal liner purchased together, will work together in unison to keep your items cool and help prevent melting or any heat related adverse affects.
The Styro Insulated Box will help to keep your items protected from the heat, but without a cold pak, may not prevent melting. It is highly suggested that you purchase the cold pak with this purchase. This box is limited in interior space and may not work with all orders, or with specific order quantities.
The 3 piece combo will help to ensure your package has the ultimate protection again melting or adverse affects of extended periods of heat related exposure.
You do not need to purchase this add-on, if you are currently purchasing cake pops through the months of March through September. Your order already has this included in the shipping costs.