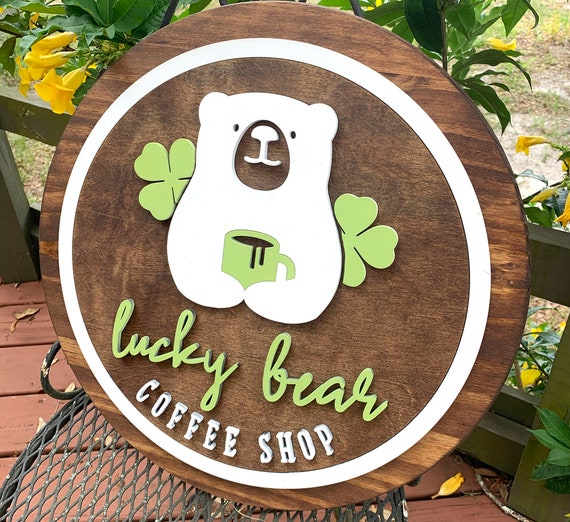 Coffee Shop Sign, Business Window Sign, Coffee Roasters Shop Logo, Custom Cafe Sign, YOUR LOGO HERE Window Hanging Sign, Shop Window Sign
By LabelsRus
Product Info
This beautiful sign can be personalized with your shop name and details! With three layers of painted, finished pieces, this sign is an absolute eye-catcher! We can customize the sign to your needs - any type of business or shop is possible!
Signs are built with multiple layers for an authentically professional finished look, with each layer custom-built to your specifications. Available in two sizes with a one-sided and double-sided options. The base piece is thick pine wood with the decals in thinner birch. The sign is finished with paint and/or wood stain in your choice of colors!
"Infinity Landing" sign photos graciously provided by customer Ryan U.! (24" x 24" weatherproofed)
---- :| ORDERING PROCESS |: ----
*Please see the write-up in the additional listing images for a detailed description*
-The deposit listing is for customers who wish to see a draft of their sign before placing a full order. This is a non-refundable deposit and includes a digital mockup with two free revisions. The money is deducted from your final total - it is not an additional cost.
-If you are confident with your logo and our design capability, you can use the same drop-down menu to select one of our available size/side options and go ahead with a full order.
*This is also recommended for customers on a tight time schedule.
-Digital mockups are automatically included with full orders. You don't need to pay for the deposit in addition.
We recommend submitting your logo AHEAD of ordering, so we can make sure it will work with our process. If you order without submitting your logo ahead of time and it turns out that we cannot use it, we will unfortunately need to cancel your order.
If you order without submitting your logo ahead of time, please send it via Etsy Message at your earliest convenience. **DO NOT WAIT FOR US TO REACH OUT!**
---- :| WEATHERPROOFING |: ----
If you plan to display your sign outside, you MUST select the weatherproofing option. We use a completely different process between indoor/non-weatherproofed and outdoor/weatherproofed signs.
Weatherproofed signs are made with a high-quality, expensive type of marine-grade plywood, which is then sealed with no less than four coats of marine-grade varnish (for signs with a stained background. For painted backgrounds, we use exterior latex acrylic paint over a mildew + mold resistant outdoor primer.) The logo on top is cut from acrylic plastic instead of wood and painted with outdoor enamels. We also use a special adhesive that is made to flex with the natural expanding/contracting of wood in hot and cold climate changes.
Weatherproof signs include a three-year warranty (they should last much longer than that if taken care of!) If your sign becomes damaged or degraded within three years, we will replace it for free.
Please DO NOT attempt to weatherproof a sign yourself. As stated above, we use an entirely different production process on our weatherproof signs. If you purchase a sign without our weatherproofing process and attempt to weatherproof it yourself, we will not replace the sign if it becomes damaged.
---- :| HANGING HARDWARE OPTIONS |: ----
Due to the huge variation of building codes and due to liability issues, we DO NOT provide hanging hardware on:
-Any sizes over 24"
-Any weatherproof-upgraded signs
-Any double-sided sign
A D-ring hook can be attached to the back of the sign if it does not fall into one of the above categories. Please request in the Personalization box if you would like a hook.
---- :| WE CAN USE LOGOS OR GRAPHICS |: ----
Your logo must be simplistic, basic-color (no watercolor or painting, please see listing images for details), and approved for print by us. We can also use basic graphic requests, i.e. "branch" or "flying bird."
Please message us before ordering if you are unsure about your graphic/logo choice!
*PLEASE NOTE: If you have your own logo, you MUST have a PDF or EPS version of your logo. JPG and PNG files do not convert to laser files well and edges will end up being very rough. We charge a $30 one-time setup fee if your logo needs to be converted to compatible format.
*PROOF PROVIDED AFTER ORDERING, unless you have ordered a proof deposit.*
----:| TURNAROUND AND SHIPPING |:----
Processing averages 1-3 weeks, depending on workload, sign size, and the addition of weatherproofing.
If you need a rush order (reduced to 5 day max production time,) please purchase the RUSH upgrade during checkout (available in the shipping portion of the checkout process.) Rush charge is $50 and moves you to the front of our queue, reducing production time to 7 days max.
**PLEASE NOTE: RUSH PRODUCTION DOES NOT INCLUDE EXPEDITED SHIPPING. Shipping charges vary depending on your area. Please contact us with your ZIP if you would like a quote for expedited shipping.
We allow a minimum of 48 hours for drying and setting. Same-day shipping is not applicable on this kind of order. We recommend that you order at least 4 weeks before your deadline.
Signs are shipped securely and delivery time is 3-7 days depending on your area.
We are not responsible for shipping carrier delays but we will work with you and the carrier in case of lost or delayed packages.
*Shipping surcharges may be applicable if you are located in HI or AK, as shipping costs can sometimes be more than double our usual cost. Please contact us prior to ordering if you are located in HI or AK so we can provide surcharge quotes.