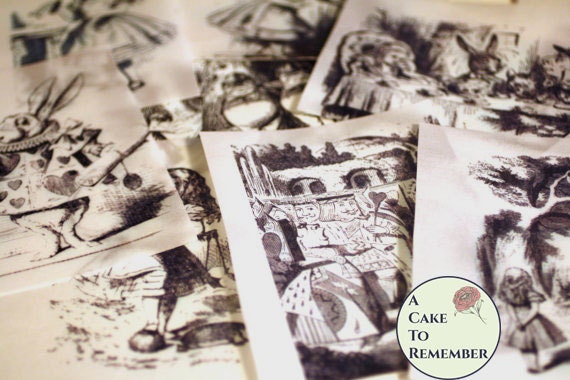 12 Classic Alice Adventures In Wonderland black and white edible pictures 2.5" x 3.5" for vegan cake decorating and cookie decorating
By A Cake To Remember LLC
Product Info
For faster shipping, upgrade to priority at checkout.
12 different Classic Alice's Adventures In Wonderland edible images in black and white to use for cake decorating and cookie decorating. These are printed on wafer paper with food coloring ink. Good for vegan cakes and cookies.
Choose from various sizes and the images to make a collection of the ones that you need for your project.
The 12 images include:
***The White Rabbit and his pocketwatch
***Alice looking at the little door
***Alice with Tweedledum and Tweedledee
***Alice with the flamingo croquet mallet
***Cards painting the rose bushes
***The Queen of Hearts and Alice
***Alice with the Dodo
***Alice and the Cheshire Cat in the tree
***The White Rabbit in his pageant uniform
***Alice being assaulted by playing cards
***The tea party scene
***Alice with the "Drink Me" bottle
Wafer paper is made from potato starch and is flavorless. You can attach them to cakes or cookies using corn syrup. Watch this video to see how to attach them to cookies, it's easy! https://www.youtube.com/watch?v=X2CHw65wPPc
If you're looking for colored versions of these, please use this listing to purchase 2 1/2 x3 1/2" colored images. For larger sizes, please send me a message. https://www.etsy.com/listing/220326695/12-classic-alice-in-wonderland-edible?ref=shop_home_active_10