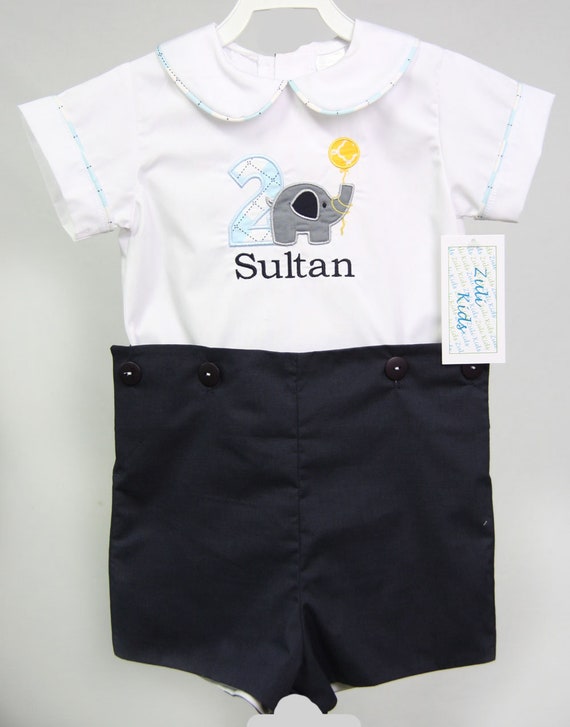 Circus Birthday Outfit Boy, Carnival Theme Party, Carnival Birthday Party, Vintage Circus Party, Circus Themed Party, Circus Party, 293249
By Zuli Kids
Product Info
Need a birthday outfit for your sweet one year old's personalized elephant birthday party ? Zuli Kids Clothing offers this precious elephant first birthday outfit. This darling little boy bobbie suit is dressy, classic and timeless. For a firstt birthday outfit boys can hardly wait to try on their new duds.
1st birthday outfit is navy with a white shirt and can come plain, with applique or with applique and name. You can have this elephant 1st birthday outfit with a number 1, 2, 3 or 4.
Zuli Kids Premium Quality
Button Back Shirt
Button Waist Pants
Snaps in Crotch for Easy diaper changes through Sz 24 Mo.
We use 2 measurements so you can check to see what size you need. I suggest that you measure a garment that fits him or will fit him when you need him to wear it since we have a no return policy on custom made garments.
We do not go by age or weight.
We use chest.............measured from armpit to armpit
Crotch........................measured from the back of the neck where the top button would be to the center of the crotch of the garment.
Baby Button-On
Size.............................Chest..................... Crotch
NB.............................. 9.5 in......................13.5 inches
3 Mo ..........................10.25 in....................14,5 inches
6 Mo...........................10.75 in....................15.5 inches
9 Mo...........................11.25 in.....................16.5 inches
12 Mo..........................11.5 in.......................17.5 inches
18 Mo..........................11.75 in.......................18.5 inches
24 ................................12.25 in.....................19.5 inches
2T..................................12.75 in......................20.5 inches
3T..................................13.25 in......................21 inches
4T...................................14 in...........................22 inches
Personalized Elephant Birthday | Elephant Birthday Party | Elephant First Birthday | First Birthday Outfit |1st Birthday Outfit Boys