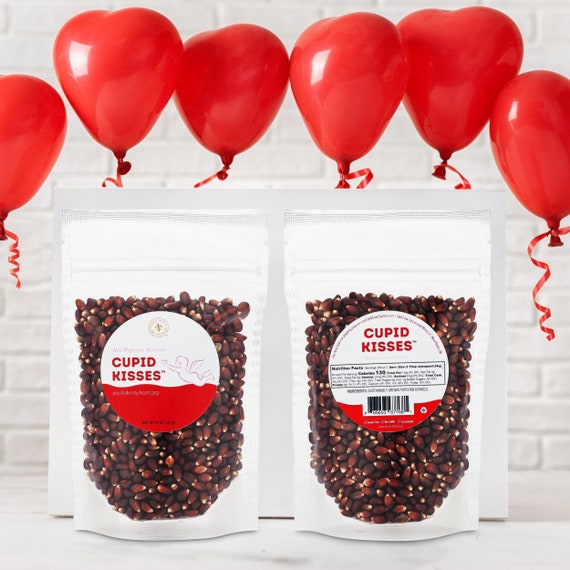 Popcorn Valentine - Cupid Kisses Red Popcorn Kernels, Gourmet Popcorn for Valentines Day, Valentine's Gift Basket
By Dell Cove Spice Co
Product Info
Love popcorn? Then Dell Cove® Cupid Kisses® popcorn is a tasty treat for the Valentine in your life! This packaging is a sweet surprise - with the cute Cupid shooting that love arrow! - for a special person, teacher or child in your life. And the popcorn? Yum! The perfect gift alone, or to add to a movie themed gift basket.
These popcorn kernels are naturally a deep, dark red. Once popped, each piece will be soft white with a red center. A fun, quirky and unique gift!
SIZE: 4.5 inch x 7 inch x 2.5 inch.
NET WEIGHT: 8 oz.
Bags are resealable - so you can make a little, or make a lot, of popcorn at one time. The 8 oz bulk bag bag makes about 8 quarts (or about 32 cups) of popped corn.
Our all natural premium popcorn is sustainably grown, gluten-free and non-GMO, and proudly grown here in the Midwest by small family farmers that are friends of ours.
The popcorn kernels will also pop in an air-popper or a commercial popcorn maker. Pouch material is recyclable. Direction cards for how to pop popcorn by stove top are included with each pack. PLEASE NOTE: This does not come with red balloons (those are photo props).
POPPER OPTION: Add a microwave silicone Popcorn Popper to your order! Get movie theater popcorn at home with this collapsible popcorn bowl, which provides the immediate satisfaction of microwave popcorn in an eco-friendly, waste-free format. No more plastic-wrapped, paper bags of microwave popcorn. With this, all you need are our kernels.
This popper is made with premium, food-grade silicone that is 100% BPA-free and LFGB certified, which exceeds the federal FDA standards of food safety. This popcorn popper pops 9+ cups of popcorn — the perfect amount of popcorn for two people (and hey, it's always easy to make more). MICROWAVE & DISHWASHER-SAFE.
© 2023 Dell Cove Spices & More Co.® "Cupid Kisses" popcorn is trademarked by Dell Cove Spices & More Co. All Rights Reserved.