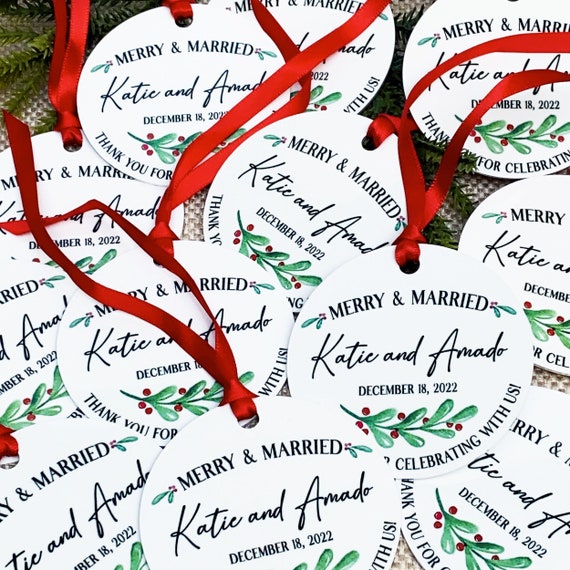 Christmas Wedding Favors - Bulk Custom Ornaments - Winter Wedding Favors with Couple Names - Bulk Gifts for Guests - Holiday Floral Greenery
By Joy & Chaos
Product Info
Customize these watercolor winter floral greenery Christmas ornaments as a unique holiday wedding favor for your guests! Choose either our glossy aluminum or matte hardboard ornaments, and personalize with your names and wedding date.
Design comes with the "Merry & Married" and "Thank you for celebrating with us" text.
𝗚𝝞𝗙𝗧 𝝗𝗔𝗚 𝝞𝗦 𝝞𝝢𝗖𝗟𝗨𝗗𝗘𝗗
Each ornament comes with a velvet pouch - great for gift presentation and off season storage.
Choose a durable matte hardboard ornament or a gloss finish aluminum ornament.
𝗢𝗥𝗡𝗔𝗠𝗘𝗡𝗧 𝗗𝗘𝗧𝗔𝗜𝗟𝗦
• Size: 2.75" round
• One sided print
• Coordinating ribbon or cord is included for hanging
• Comes with drawstring non-scratch velveteen pouch
𝗛𝗔𝗥𝗗𝝗𝝤𝗔𝗥𝗗 𝗢𝗥𝗡𝗔𝗠𝗘𝗡𝗧S
• Textured matte finish
• Durable hardboard material
𝗔𝗟𝗨𝗠𝝞𝝢𝗨𝗠 𝗢𝗥𝗡𝗔𝗠𝗘𝗡𝗧𝗦
• Smooth gloss finish
• Durable lightweight aluminum
All fees are included, no extra charges!
• Free printing set-up.
• Free proof (you will receive within 2 business days).
• This item qualifies for FREE standard shipping!
𝙋𝙇𝙀𝘼𝙎𝙀 𝙉𝙊𝙏𝙀: Due to variations in each device's display settings and calibration, printed colors may sometimes appear different or less bright than what you see on your screen.
𝗗𝝞𝗚𝝞𝗧𝗔𝗟 𝗣𝗥𝝤𝝤𝗙
• A digital proof is included for free with every order.
• Once your order has gone through, you will receive the proof in an Etsy convo within 2 business days.
• You must reply to this message and approve the layout before production can begin on your items.
𝗣𝗥𝝞𝝢𝗧𝝞𝝢𝗚/𝗣𝗥𝝤𝗗𝗨𝗖𝗧𝝞𝝤𝝢 𝗧𝝞𝗠𝗘
• Your order will ship out to you within 3-5 business days AFTER you have approved your design proof.
𝗣𝗥𝝤𝗗𝗨𝗖𝗧 𝗦𝗔𝗠𝗣𝗟𝗘
• A blank sample of these ornaments are available to purchase without any printing if you would like to see what the product looks and feels like in person prior to placing an order for customized ornaments.
Choose "1 BLANK ORNAMENT" from the dropdown menu if you would like to order one blank sample ornament.
_____________________
𝗗𝝞𝗚𝝞𝗧𝗔𝗟 𝗗𝗘𝗦𝝞𝗚𝝢 𝗣𝗥𝝤𝝤𝗙
A digital mockup/proof of your artwork is included.
Your proof will be sent within 1-2 business days after we receive your order.
*Please keep in mind any holidays & timing that may affect 'business' days. If you place your order over the weekend, Monday will typically be the first business day counted.
The standard 3-5 day order processing window begins upon final approval of your proof.
_____________________
𝗖𝗛𝗘𝗖𝗞 𝗧𝗛𝗘𝗦𝗘 𝗢𝗨𝗧
• Shop all 'Design Your Own' gifts, favors & custom products:
https://www.etsy.com/shop/JoyandChaos?rsection_id=25466852
_____________________
𝗣𝗥𝗢𝗗𝗨𝗖𝗧𝗜𝗢𝗡 + 𝗦𝗛𝗜𝗣𝗣𝗜𝗡𝗚
• Current production time: this will ship 3-5 business days after placing your order
• All customized items are printed to order especially for you & are a final sale.
Please read through all details before purchasing. We are here to answer any questions you might have!
• Click here to view all shop policies and current shipping information: https://www.etsy.com/shop/JoyandChaos/#faq
𝗘𝗦𝗧𝗜𝗠𝗔𝗧𝗘𝗗 𝗗𝗘𝗟𝗜𝗩𝗘𝗥𝗬 𝗧𝗜𝗠𝗘
• All stated delivery date ranges are 𝗘𝗦𝗧𝝞𝗠𝗔𝗧𝗘𝗦 𝝤𝝢𝗟𝗬
• See all available shipping options for this item on the cart page.
• Although we cannot guarantee specific delivery dates, feel free to message us for other expedited shipping options.
★ 𝗣𝗟𝗘𝗔𝗦𝗘 𝝢𝝤𝗧𝗘: with all shipping carriers still experiencing unexpected delays, we are encouraging our customers to 𝗣𝗟𝗔𝗖𝗘 𝗢𝗥𝗗𝗘𝗥𝗦 𝗔𝗦 𝗘𝗔𝗥𝗟𝗬 𝗔𝗦 𝗬𝗢𝗨 𝗖𝗔𝗡 𝝞𝗙 𝗬𝝤𝗨 𝗛𝗔𝗩𝗘 𝗔 𝗗𝗘𝗔𝗗𝗟𝝞𝝢𝗘!
As stated in Etsy's buyer policies (https://www.etsy.com/legal/buyers/?ref=list), sellers cannot be held responsible or issue refunds for packages that arrive later than the estimated delivery date range.
____________________
𝗥𝗘𝗧𝗨𝗥𝗡𝗦 + 𝗘𝗫𝗖𝗛𝗔𝗡𝗚𝗘𝗦
• All personalized items are made especially for you and are a final sale.
• We are happy to accept returns on any unworn, unwashed and non-personalized items within 14 days.
• Shipping fee for exchanges: We will gladly ship your new item to you free of charge. You will only be responsible for covering the cost of mailing your item back to us.
• Feel free to review all of our policies here:
https://www.etsy.com/shop/JoyandChaos/#policies
___________________
𝗦𝗛𝝤𝗣 + 𝗦𝝤𝗖𝝞𝗔𝗟𝗦
🛍 • Click here to visit our entire Etsy shop: JoyandChaos.etsy.com
📷 • Follow us @joyandchaosshop
🤳🏽• Post & tag your photos #JoyandChaos
We hope you like what you see as much as we love creating it!
Thanks! ♥︎ Marlo & Lisa