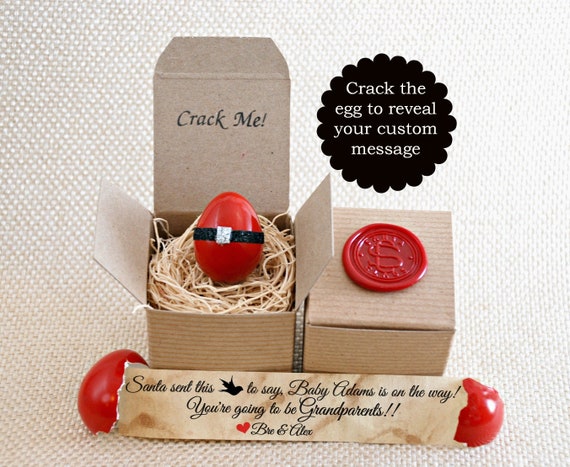 Christmas Pregnancy Announcement - Pregnancy Reveal Family - Grandparents - Aunt - Grandma - Crack Me Eggs
By RAWR Designs By C
Product Info
These special edition Christmas pregnancy announcements are made from real unfertilized eggs that have been thoroughly emptied and cleaned. They are about 1/4 the size of a regular chicken egg - tiny, delicate and super adorable. Perfect for delivering your special news during the holidays.
Each egg has been hand painted to a beautiful glossy red finish and custom fitted for a sparkling santa belt. The eggs arrive packaged in individual kraft boxes and sit in a nest made of excelsior. Each box has "Crack Me!" stamped on the inside of the top flap. Recipients crack the egg to reveal your printed announcement on parchment paper. The egg inserts are folded, rolled, and inserted into the egg through a small hole at the bottom and the insertion hole is then patched and painted to be virtually invisible. The box is then adorned with a red wax Santa Claus seal and packaged inside an indestructible shipping container.
HOW TO ORDER:
1. Select the quantity of eggs you'd like to order and select the wax seal of your choice. Then click the "add to cart" button
2. Add the text for your announcement...exactly as you'd like it to appear...to the Optional Note to Seller box or the personalization field. Your announcement will be drafted using EXACTLY what you send me. If you'd like your announcement to have the same wording, symbols, etc. as the picture, you can send your information only. For example: "same as the picture. Baby Ellis...going to be Grandparents, Love Bre & Alex" and your info will be added to the existing note...exactly as pictured only customized for you. I advise keeping your text to a max of 3 lines.
PROCESSING & SHIPPING:
Processing time is 3 to 5 business days. I do my absolute best to beat that processing time but you should allow for the full 5 business days or select expedited shipping or rush service at checkout.
EXPEDITE OPTIONS FOR THOSE THAT NEED TO RECEIVE THEIR ORDER FAST:
We offer 2 expedited services that you can select in the shopping cart at checkout.
* Priority Mail Upgrade - USPS 1 to 3 Day Priority Shipping (this is shipping only....your egg will still take 3 to 5 days to make)
* Rush Service + Priority Upgrade - ships in 1 to 2 business days and includes postage upgrade to USPS 1 to 3 day priority mail
HOW TO MAIL OUT YOUR ANNOUNCEMENTS:
For your convenience, your order shipment will arrive with each egg invitation box and each is packed in its own indestructible shipping container...ready to be addressed by you and mailed to your intended recipients. All you need to do is address each shipping box and take them to the post office.
FAQ:
1. What are my message options?
Your options are only limited by your own imagination…message text is 100% custom…you draft the text and I will produce it exactly as you've written it. Please keep text to 150 characters.
2. Can I order multiple eggs with different messages?
Yes! Just add "message for 1 egg:" and "message for 3 eggs: " in the note to seller box. Your eggs will be lightly marked on the bottom of each box so that you know which message is inside.
3. Can I customize the egg and/or box?
Yes, yes, yes! I love customization requests....Etsy shoppers are incredibly creative....your ideas help my shop and my products evolve. Email me with your idea prior to placing your order and I will do my best to make it happen.