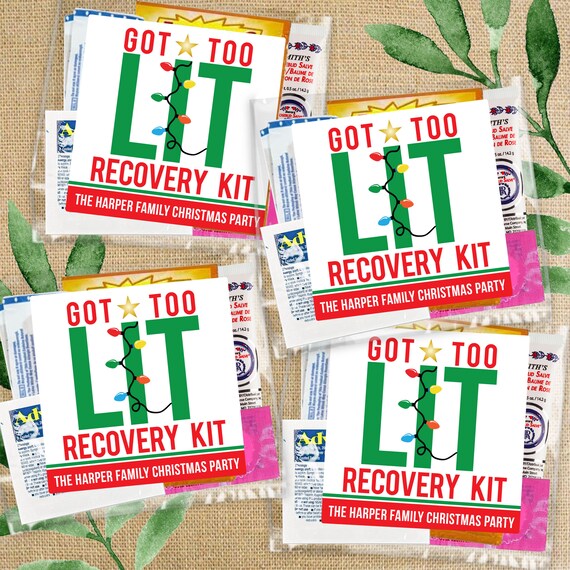 Christmas Hangover Recovery Kit Labels - Custom Holiday Survival Kit Sticker Set - Adult Christmas Party Favor Bags + Labels - Got Too Lit
By Joy & Chaos
Product Info
These festive 2.5 inch square stickers are printed with our "Got Too Lit Recovery Kit" Christmas design.
𝗣𝗘𝗥𝗦𝝤𝝢𝗔𝗟𝝞𝝛𝗘 𝗬𝝤𝗨𝗥𝗦
• Add 1 line of custom text (using up to 40 characters)
*Character limit includes spaces and punctuation.
*No emoji or non-standard characters, thanks.
𝝞𝗧𝗘𝗠 𝝤𝗣𝗧𝝞𝝤𝝢𝗦
• 12 labels (2.5" square)
• 12 labels + 12 resealable clear cellophane favor bags (4" x 6")
𝝗𝗘𝗙𝝤𝗥𝗘 𝗬𝝤𝗨 𝝤𝗥𝗗𝗘𝗥:
Please measure your items to ensure these labels will work for you!
**𝗣𝗟𝗘𝗔𝗦𝗘 𝝢𝝤𝗧𝗘 - this listing is for the items in the dropdown menu ONLY and does not include any other bag styles, fillers, or goodies!
Photo may depict additional items such as hangover kit fillers, water, lip balm, etc. just to help show you what you can put in your recovery kit bags!
_________________________
𝗖𝗛𝗘𝗖𝗞 𝗧𝗛𝗘𝗦𝗘 𝗢𝗨𝗧
🎄 • Shop our Christmas and holiday collection:
https://www.etsy.com/shop/JoyandChaos?section_id=22504325
_________________________
𝗛𝗔𝝢𝗚𝝤𝗩𝗘𝗥 𝗥𝗘𝗖𝝤𝗩𝗘𝗥𝗬 𝗞𝝞𝗧 𝗟𝗔𝝗𝗘𝗟 𝗗𝗘𝗧𝗔𝝞𝗟𝗦
• Size: 2.5" x 2.5" square
• Glossy finish
𝗖𝗟𝗘𝗔𝗥 𝗙𝗔𝗩𝝤𝗥 𝝗𝗔𝗚 𝗗𝗘𝗧𝗔𝝞𝗟𝗦
• Size: 4"x 6" cellophane favor bag
• Fold over resealable closure
• 100% polyethylene
• FDA and USDA compliant.
• All our labels & stickers are digitally printed using eco-friendly inks on high quality materials.
𝙋𝙇𝙀𝘼𝙎𝙀 𝙉𝙊𝙏𝙀: Due to variations in each device's display settings and calibration, printed colors may sometimes appear different or less bright than what you see on your screen.
_________________________
𝗣𝗥𝗢𝗗𝗨𝗖𝗧𝗜𝗢𝗡 + 𝗦𝗛𝗜𝗣𝗣𝗜𝗡𝗚
• Current production time: this will ship 3-5 business days after placing your order
• All customized items are printed to order especially for you & are a final sale.
Please read through all details before purchasing. We are here to answer any questions you might have!
• Click here to view all shop policies and current shipping information: https://www.etsy.com/shop/JoyandChaos/#faq
𝗘𝗦𝗧𝗜𝗠𝗔𝗧𝗘𝗗 𝗗𝗘𝗟𝗜𝗩𝗘𝗥𝗬 𝗧𝗜𝗠𝗘
• All stated delivery date ranges are 𝗘𝗦𝗧𝝞𝗠𝗔𝗧𝗘𝗦 𝝤𝝢𝗟𝗬
• See all available shipping options for this item on the cart page.
• Although we cannot guarantee specific delivery dates, feel free to message us for other expedited shipping options.
★ 𝗣𝗟𝗘𝗔𝗦𝗘 𝝢𝝤𝗧𝗘: with all shipping carriers still experiencing unexpected delays, we are encouraging our customers to 𝗣𝗟𝗔𝗖𝗘 𝗢𝗥𝗗𝗘𝗥𝗦 𝗔𝗦 𝗘𝗔𝗥𝗟𝗬 𝗔𝗦 𝗬𝗢𝗨 𝗖𝗔𝗡 𝝞𝗙 𝗬𝝤𝗨 𝗛𝗔𝗩𝗘 𝗔 𝗗𝗘𝗔𝗗𝗟𝝞𝝢𝗘!
As stated in Etsy's buyer policies (https://www.etsy.com/legal/buyers/?ref=list), sellers cannot be held responsible or issue refunds for packages that arrive later than the estimated delivery date range.
____________________
𝗥𝗘𝗧𝗨𝗥𝗡𝗦 + 𝗘𝗫𝗖𝗛𝗔𝗡𝗚𝗘𝗦
• All personalized items are made especially for you and are a final sale.
• We are happy to accept returns on any unworn, unwashed and non-personalized items within 14 days.
• Shipping fee for exchanges: We will gladly ship your new item to you free of charge. You will only be responsible for covering the cost of mailing your item back to us.
• Feel free to review all of our policies here:
https://www.etsy.com/shop/JoyandChaos/#policies
___________________
𝗦𝗛𝝤𝗣 + 𝗦𝝤𝗖𝝞𝗔𝗟𝗦
🛍 • Click here to visit our entire Etsy shop: JoyandChaos.etsy.com
📷 • Follow us @joyandchaosshop
🤳🏽• Post & tag your photos #JoyandChaos
We hope you like what you see as much as we love creating it!
Thanks! ♥︎ Marlo & Lisa