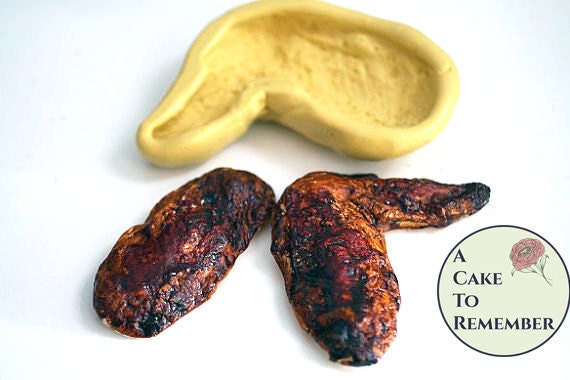 Chicken wing mold for cake decorating, silicone chicken wing mold, cake supplies. Groom's cake toppers, bachelor party cakes. M400
By A Cake To Remember LLC
Product Info
For faster shipping, upgrade to priority at checkout.
This delightful chicken wing mold for cake decorating will help you make a bucket of chicken cake, a plate of wings cake, or any other weird chicken wing and cake combination that you can think of. It's food-safe and works with gumpaste or a stiff fondant.
The mold makes a wing that's a little over 3" long, and you can use it both with and without the wing tip.
You can also use it for polymer clay or resin if you want to go the permanent route, but don't use the mold for edibles and non-edibles too!
This would be great for groom's cakes or bachelor party cakes, or just for a cake that you're taking to a family gathering to freak out your relatives.
I'll enclose an instruction sheet on how to paint them with food coloring to make them look realistic.