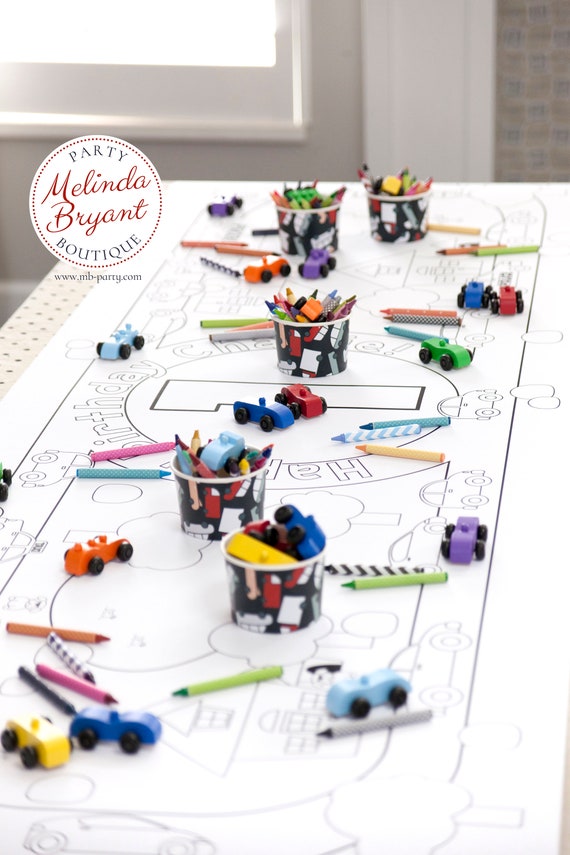 Cars and Trucks Birthday Decor Coloring Page Table Runner / First Birthday Decorations / Kids Table Activities / Children's Party Games
By Melinda Bryant Party Boutique
Product Info
Keep the party moving while you wait for guests to arrive, transition between activities, and as you serve refreshments. A personalized, cars and trucks themed coloring table runner is the secret to a stress-free party.
At 6' long, you can be sure there's room for everyone. Kids love to collaborate and share their ideas. Coloring as a group helps even the shyest kids to feel comfortable.
Runners are printed on heavy matte paper -- perfect for crayons, markers, colored pencils, paint... Set your table with little cars for the kids to play with while they color, and to take home when the party is over.
The design, personalization, and bright white finish make it as much a decoration as an activity. When the party is over, roll it up to continue coloring on another day, or fold it up for the recycle or compost bin. Be sure to take photos of the kids with their artwork to include in your birthday scrapbook!
- You can order as little as 5 days in advance of your event -- just let me know the date of your party.
- Runners generally do not need to be secured to the table for indoor use. They come rolled design-side-out so they lay nicely and won't curl back up.
- If used outdoors, you'll want to secure your runner with tablecloth clips or tape. If you choose to use tape, know that you cannot remove it without damaging the finish on the paper. Once you've stuck it, do not try to remove it.
- Runners all measure 24" wide regardless of length. They look beautiful over a cloth tablecloth.
- For messy applications, such as a cookie or cupcake decorating table, you'll LOVE having your runner over a disposable tablecloth. When the party is over, simply fold the runner, and the mess, into your tablecloth for the fastest cleanup ever.
- The thickness of the paper makes it suitable for floor use as well.
*Custom design requests are welcome! Guidelines for custom designs are: 1. No characters. This shop will not knowingly violate trademarks or intellectual property. 2. Your design has to have general appeal. Due to time constraints, any design I create needs to be one I can resell in my shop. 3. Qualifying requests are accepted or rejected according to my schedule, and are taken on a first come/first served basis.
*All designs are the property of Melinda Bryant Party Boutique and are sold exclusively by me. Other items pictured are for staging purposed only and are not included.