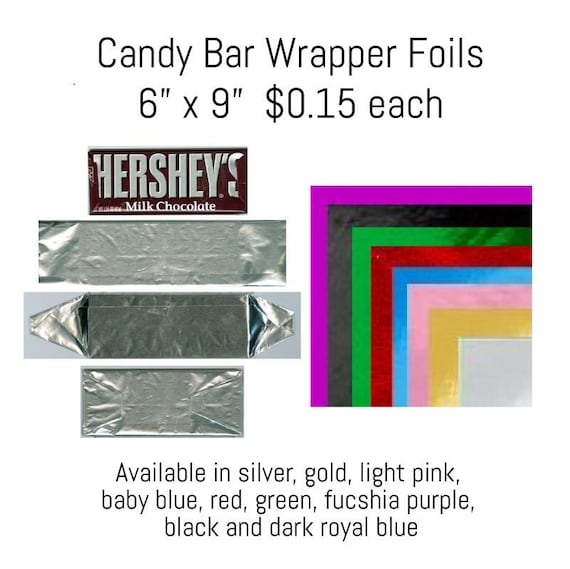 Candy Wrapper Foils, 6"x 9", Minimum order 10 pieces, white backing, wraps a 1.55 oz chocolate bar personalized candy wrapper
By Announce It!
Product Info
6" x 9" Candy Wrapper Foil (Minimum order 10 pieces)
Fits Standard 1.55 oz Hershey or Nestle Crunch Bar 5 3/8" x 2.25"(about the size of a dollar bill)
•Hershey and Nestle's changed their packaging in 2003, for a more profession looking favor, you will need to first wrap the candy bar (left in the original manufacturers packaging) in foil to get that classic candy bar look.
It is super easy, if you can wrap a birthday present, you can wrap a candy bar!
•Perfect for do-it-yourself crafts or any special celebration.
•This is a professional food grade foil and comes pre-cut in 6" x 9" and fits standard 1.55 oz candy bars.
This foil is not suitable for printing.
•Front is a shiny foil, Back is a light white tissue paper backing
• All orders are shipped using US Postal Service Priority Mail Service which takes 2 to 3 days. Overnight shipping is also available upon request for $18.95.
Back to our shop http://www.etsy.com/shop/AnnounceItFavors