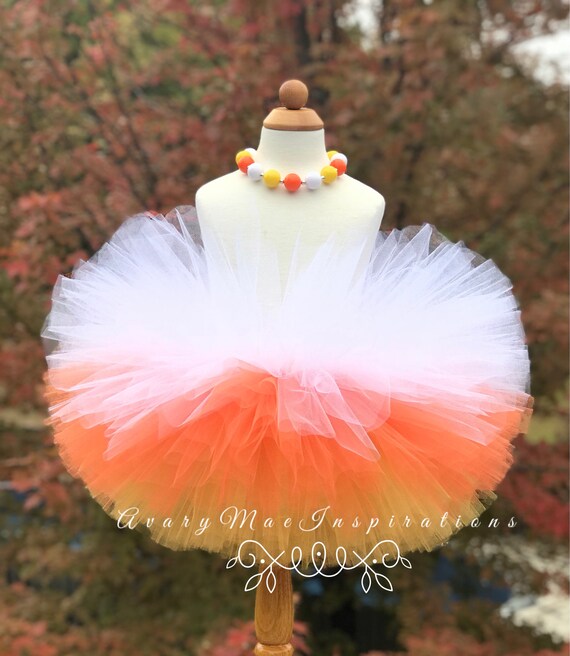 Candy Corn Tutu, Halloween Tutu, Fall Tutu, Girls Tutu, Candy Corn Costume Tutu, Girls Tutu, Infant Tutu, Baby Tutu, Custom Colors Available
By AvaryMaeInspirations
Product Info
Candy Corn Tutu, Halloween Tutu, Fall Tutu, Girls Tutu, Candy Corn Costume Tutu, Girls Tutu, Infant Tutu, Baby Tutu, Custom Colors Available
Colors used are Yellow , Orange and White.
This handcrafted tutu is perfect for newborn, baby and toddler girls. It is a must have for birthdays, dance, pageants, everyday play, and most of all…photo shoots.
TUTU SIZES: (measure waist to make sure)
Preemie-12" waist 4.0" Length
Newborn-13" waist 4"Length
3-6 mos-14" waist 4.5" length
6-12 mos-15" waist 5" length
18-24 mos-16" waist 6" length
2T/3T- 20" waist 7" length
4-5 girls-22" waist 8" length
6-8 girls-23" waist 8"length
9-10 girls- 24" waist 8" length
All tutus are handcrafted, therefore, no two are exactly alike although I make as close as possible to the photo. Colors may vary slightly due to computer/mobile device settings.
I hand tie 6 layers doubled (12 layers total) of tulle onto a soft & stretchy crochet band for all my baby tutus, which makes them exceptionally full and fluffy.
Our Tutus are perfect for any occasion, Baby Showers, Wedding Showers, Christenings, Baptisms, Birthdays, Holidays, Photo Shoots, Cake Smash Events, Bachelorette Parties, Fun Runs, Marathons, Races, Parades, Drill Teams, Cheer Groups, Dance Teams, etc.
Pastel Rainbow Tutu, Baby Tutu, Infant Tutu, Toddler Tutu, Girls Tutu, Birthday Tutu, Pastel Tutu, Smash Cake Tutu, Photo Shoot Fluffy Tutu
Candy Corn Tutu, Halloween Tutu, Fall Tutu, Girls Tutu, Candy Corn Costume Tutu, Girls Tutu, Infant Tutu, Baby Tutu, Custom Colors Available