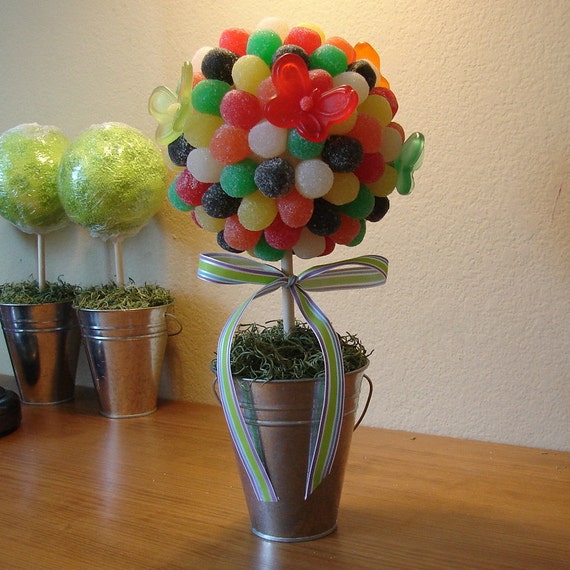 Edible GUM DROP Candy Bouquet - Gumdrop Topiary - Birthday Mitzvah Wedding Party Decor
By Charmios
Product Info
★ 1-GUM DROP GUMMI BUTTERFLY TOPIARY ★
What an absolutely delightful gift to send someone in lieu of flowers. Perfect for birthdays, graduations, Mother's Day, Teacher Appreciation Day or just to wish someone a speedy recovery!
Charmios Butterfly Gumdrop Topiary measures 14" tall with a 7" sphere of gumdrops and gummy butterflies. The base is weighted down (approx. 3 pounds) to prevent toppling (total shipping weight is 7pounds, 6 ounces). We only use PVC FREE wrapping and all of our materials are FDA approved.
FLAVOR COMBINATIONS:
Gumdrops (Jellies) - Red/Cherry, Orange/Orange, Yellow/Lemon, Green/Lime, White/Pineapple and Black/Anise. (approx. 3.5 pounds). If ordering the floral design pictured along with our gumdrop wreath, the leaves are spearmint flavor.
GummI Butterflies - Red/Strawberry, Purple/Grape, Orange/Orange, Teal Blue/Raspberry, Pink/Watermelon, Yellow/Lemon and Green/Green Apple. (7 gummy butterflies included)
★ ABOUT ★
Based in the NYC/NJ area, Charmios offers a unique craft party experience for any event, which is guaranteed to make a lasting impression with your guests! We'll create a custom craft project that fits within the theme of your event and bring all the materials to your party location. We'll organize it, handle the set-up, craft time and all the clean up so you can relax and enjoy your special day.
Contact Charmios Craft Party for package options, craft projects, and to book your next event! If you are outside the NYC/NJ area, we offer custom do-it-yourself party kits. For direct links to our blog and Facebook page, be sure to visit our about page.