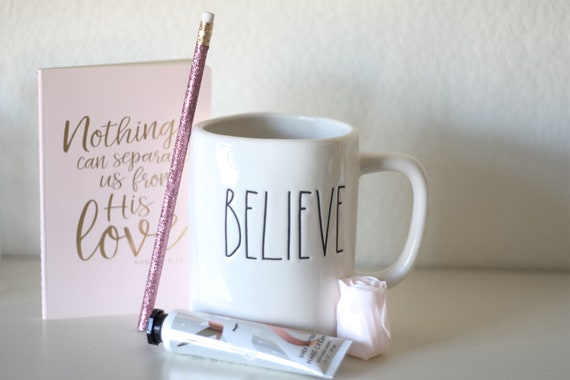 Grandma Gift, Care Package gift set, Have Faith Care Package, Box of sunshine for grad, Grad gift box of encouragement, graduation gift
By Aubabi78
Product Info
Do you have a friend that needs Encouragement? Or a loved one that needs to remember how Strong they really are?? This is the best way to send them some strength and encouragement.
I have always loved to create gift boxes and baskets for friends and family. So now it's my pleasure to offer some gift boxes for you to send to your loved one!
Each of my boxes have items hand selected by me and put together thoughtfully. If you would like I can even add in a custom hand written note to your loved one. Each of them are one of a kind.
With this purchase you will receive all the below:
Rae Dunn mug with the word "Believe"
Rose Bath Scents
Scripture notebook
Glitter pencil
Hand Cream
a Pinwheel
I can send to you or anyone on your list :) Just add in the notes at checkout where you would like it shipped. They will feel the love when they open the box and see the thoughtfulness inside!
When putting together this box, I thought about the person that needs to be reminded that nothing can separate us from God's love. The mug can be a daily reminder of this belief.
Please let me know if you have any questions and I would be happy to answer them!