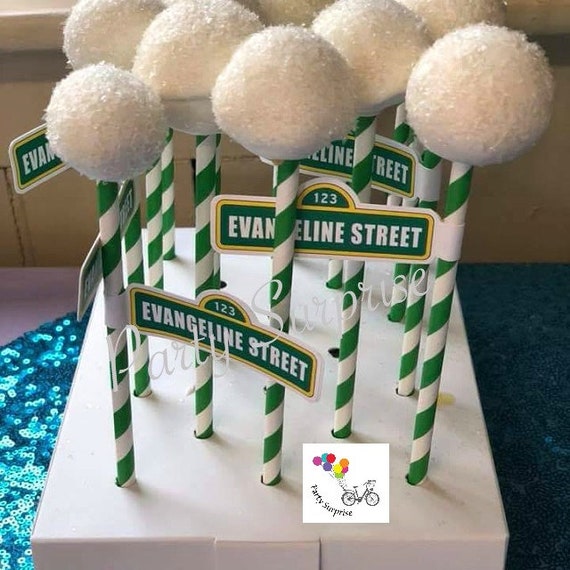 Cake Pop Stand,Paper Straw Stands,White Cake Pop Holder,Dessert Bar Buffet Cake Pop Stands
By Party Surprise, Etsy
Product Info
Cake Pop stands are fun to display your cake pops! Holding 12-15 cake pop straws, there is plenty of room for holding a large quantity. Decorate the edges yourself to tie in to your theme.
Proudly made in the USA.
Strong and designed with durability in mind, these stands will make serving your lollipops/cake pops much easier. Perfect for baby showers, birthday parties, and carnivals, these will definitely put a smile on any child's face.
White cardboard stand - Measuring 8.5"x6"x2".
Photos 1, 3 & 4 above from happy customers.
HOW TO ORDER:
Select your quantity of stands from the DROP DOWNS in the ORDER box. Stock limited.
Ordering other items? Your orders will be combined for shipping to the same address, and shipping will be adjusted accordingly.
Custom writing is NOT offered on stands.
Straws can be found here:
www.etsy.com/shop/PartySurprise?ref=shop_sugg&search_query=straws
Party Surprise paper straws can be found in a large selection of colors and designs here, in the category Not Your Mother's Straws! More than 150 varieties:
****************************
SHIPPING (yes, boring, but necessary):
I highly recommend adding insurance for loss and damage by USPS at this link, it is only $0.99, if you are shipping by standard (& free) shipping.
www.etsy.com/listing/968724695/shipping-insurance-for-loss-or-damage-by?ref=shop_home_active_1&frs=1
Standard shipping usually takes 2-6 business days once shipped, does not include insurance for loss or damage, or guarantee of date of delivery.
Priority shipping usually take 2-4 business days once shipped, includes insurance for loss or damage, does not guarantee date of delivery.
RUSH Priority shipping puts you at the top of the orders list, and ships by Priority mail as described above.
Express Priority shipping usually will take 1-3 days once shipped, includes RUSH which puts your order at the top of the orders list, and also includes insurance and guaranteed date of delivery by USPS.
If order is delayed by USPS, please contact Party Surprise, however the date of delivery is not guaranteed by Party Surprise, only the date of shipping. Returning packages must be discussed first with Party Surprise, package must be UNopened, returned within seven business days. Once package is received by Party Surprise and is found to be in original condition, a refund will be issued less 20% restocking fee and less shipping charge. Custom orders are not returnable; all balloons are not returnable if package has been opened.
*********************************
Packaged well, Party Surprise cake pop and sticks stands arrive flat.
REVIEWS OF THIS ITEM:
5 STARS, Nelly
5 STARS, "Love them! Fabulous! Great seller!!! Thanks so much! SUPER fast shipping! A++++++++++++++++++++++++++++", ArtieMc
5 STARS, Maemae
5 STARS, CatFish
5 STARS, "It's perfect thanks.", Cassis
5 STARS, "Absolutely perfect and exactly what I needed fast delivery!!!", CookiesbyDeb
5 STARS, Latashia
5 STARS, "I love it!!! Fast shipping! Thanks!", Mary
5 STARS, "Definitely would purchase again. Great price, easy to put together and can easily be decorated with ribbons, bows or bling.", Nsaid3
5 STARS, CRF4
5 STARS, "Item as pictured and faster shipment. Thank you so much, ill definitely will be ordering from you in the near future. 100% recommended.", Ghina
5 STARS, Shannen
***********************************
Don't forget your balloons, balloon arch/garland kits, photo prop sets, fancy straws, tableware sets, mini popcorn boxes, Euro gift bags, gift/favor/treat bags, tissue tassel garlands & balloon tails, custom wedding confetti wands, party tableware, disposable cutlery, cake toppers, and cupcake toppers & wrappers - I have what you want!
Balloon color and size charts here:
www.etsy.com/shop/PartySurprise?ref=hdr_shop_menu&search_query=color+chart
Confetti Balloons & Table Confetti:
www.etsy.com/shop/PartySurprise?ref=shop_sugg§ion_id=25395318
Hot Air Balloons:
www.etsy.com/shop/PartySurprise?ref=shop_sugg&search_query=hot+air+balloon
Balloon arches/garlands:
www.etsy.com/shop/PartySurprise?ref=shop_sugg&search_query=garland
Photo Prop Sets:
www.etsy.com/shop/PartySurprise?ref=shop_sugg§ion_id=22959761
Disposable Cutlery:
www.etsy.com/shop/PartySurprise?ref=shop_sugg&search_query=cutlery
Fancy Straws: www.etsy.com/shop/PartySurprise?ref=hdr_shop_menu§ion_id=14449328
Party Tableware:
www.etsy.com/shop/PartySurprise?ref=shop_sugg§ion_id=15478643
Mini Popcorn Boxes: www.etsy.com/shop/PartySurprise?ref=hdr_shop_menu§ion_id=15478643
Tassel Garlands: www.etsy.com/shop/PartySurprise/items?ref=pagination§ion_id=19770755
Custom Number Cards:
www.etsy.com/shop/PartySurprise/items?ref=pagination§ion_id=19936436
Cupcake Wrappers: www.etsy.com/shop/PartySurprise?ref=hdr_shop_menu&search_query=cupcake+wrappers
Cupcake Toppers: www.etsy.com/shop/PartySurprise?ref=hdr_shop_menu&search_query=cupcake+topper
Favor and Treat Bags: www.etsy.com/shop/PartySurprise?ref=hdr_shop_menu§ion_id=14448891