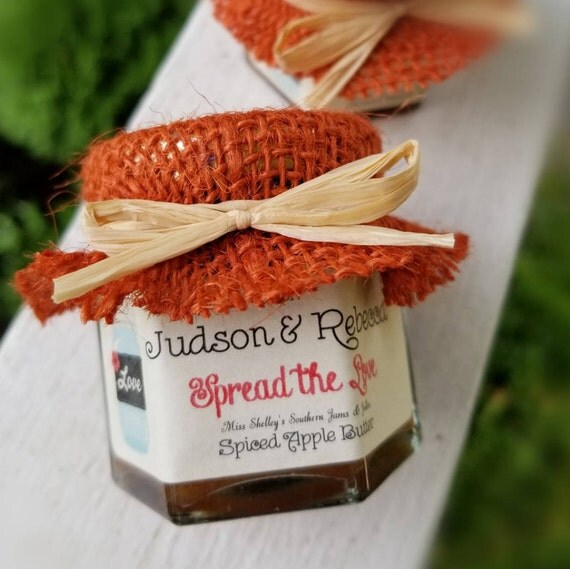 Product Info
Miss Shelley's Southern Jams & Jellies is pleased to offer our rustic burlap topped jam favors for your special event. Our lip smacking sweet treats come with your choice of over 40 colors of burlap to choose from and a personalized label. Each of our 1.5oz jars are filled with your choice of our unique jam flavors that are made with love and hand stirred just for you! These sweet mini jam jars will add a little southern charm to your special day and make you the belle of the ball!
Jar Dimensions: 1.75" x 2"
** Sweet Special - Two FREE jars of jam and a silver spreader! **
Plan ahead and save with our Early Booking discounts of up to 5%-15% OFF. See our Early Booking schedule for event dates below:
January order by November 5th
February order by December 5th
March order by January 5th
April order by February 5th
May and June order by March 5th
July order by April 5th
August order by May 5th
September and October order by June 5th
November order by August 5th
December order by September 5th
****COUPON CODE: Early booking coupon codes will be provided only after event date is confirmed. Please send me a note for coupon code.
**NOTE: Each order is made fresh so you receive a lip smacking sweet treat! Please allow between 4-6 weeks for processing of your jam favors depending on number of jars ordered.**
Raffia Ribbon Colors: Black, Charcoal, Cool Gray, Chocolate Brown, Pearl Copper, Pearl Silver, Oatmeal, Kraft Brown, Ivory, Taupe, White, Gold, Harvest Gold, Light Yellow, Sunflower, Peach Ombre, Coral, Orange, Terra Cotta, Pearl Violet, Orchid, Lavender, Purple, Grape, Plum, Light Pink, Azalea, Raspberry, Fuchsia Pink, Pink/White Ombre, Red, Claret, Wine, Pearl Burgundy, Aqua, Light Blue, Caribbean Blue, Cobalt, Royal Blue, Robin's Egg Blue, Williamsburg Blue, Navy, Teal, Dark Mint, Sage, Olive, Apple Green, Emerald, Kelly Green, Hunter Green, Jungle Green, Pearl Chartreuse
Burlap Topper Colors: Natural, Oyster, White, Ivory, Natural Sparkle, Oyster Sparkle, Barn Red, Fuchsia Pink, Snap Pink, Vintage Pink, Peach, Burnt Sienna, Orange, Tangerine, Copper, Terra Cotta, Butter, Yellow, Navy, Robin's Egg Blue, Light Blue, Royal Blue, Bahama Turquoise, Jade, Ecliptic Blue, Billow Blue, Moss Green, Sage, Hunter, Avocado, Lime, Emerald, Apple Green, Purple, Lavender, Eggplant, Chocolate Brown, Black, Charcoal Gray, Ash Gray, Orange/Plum Plaid, Red/Black Plaid, Natural/Black Plaid and Moss/Royal Plaid
Wedding label quotes:
"Spread the Love"
"Love is Sweet"
"Love is Homemade"
"Love as Sweet as Tea"
"Jam Packed with Love"
"Berry Sweet Beginning"
"Berry Good Together"
"Love Preserved"
"Peachy Together"
"Apple of My Eye"
Please place the following information in the notes when purchasing:
Couple's Name (As wanted on the label)
Wedding/Event Date
Wedding Quote
Raffia Ribbon Color
Receive a FREE jar of jam just for you as my gift! Wishing you blessings from the heart of my southern kitchen with love as sweet as tea!
Contact for ordering larger quantities.... no order is too big! Prices are discounted when ordering over 100 jars.
Each loving batch is made with only the freshest ingredients, no preservatives and hand stirred by Miss Shelley. There are no gluten ingredients in our jams or jellies. Get ready to make your wedding sweet with Miss Shelley's Southern Jams & Jellies as a special lip smacking treat! Thanks for taking a peek at my shop. Serving treats from the heart of my southern kitchen with love as sweet as tea. May your day be filled with sunshine and blessings sent from the good Lord above!
I thank the Lord for opening the door on this new adventure and praise Him for all the success. "O, taste and see that the Lord is good." Psalm 34:8
May the Lord bless and "preserve" you and keep you safe in all your "mini jams"!
Can I get an amen..
With love as sweet as tea,
Miss Shelley