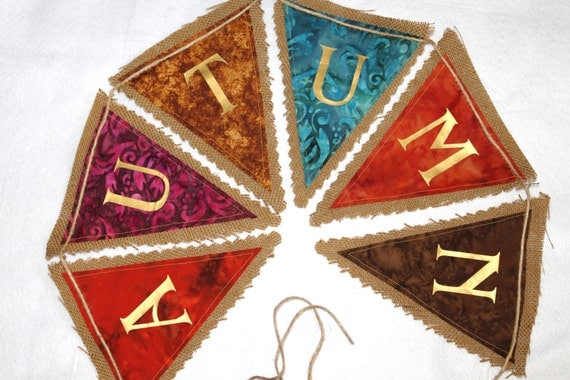 Product Info
READY TO SHIP
Yes, I love pumpkin pie, and boots, and scarves, and crisp autumn evenings - but the colors of fall may be my favorite part of all!!
I have attempted to represent some of the rich, autumnal colors in this burlap and cotton bunting.
Golden tan burlap is layered with Indonesian batik fabric in paprika, rust, turquoise, golden brown, and plum. Metallic gold lettering spells out "AUTUMN", and the 6 flags are sewn onto jute rope.
Cut with scalloped edges, each pennant is 7.25" across and hangs 9" long. The strand of 6 flags stretches approx. 4 feet long, with an additional foot of twine on each end.