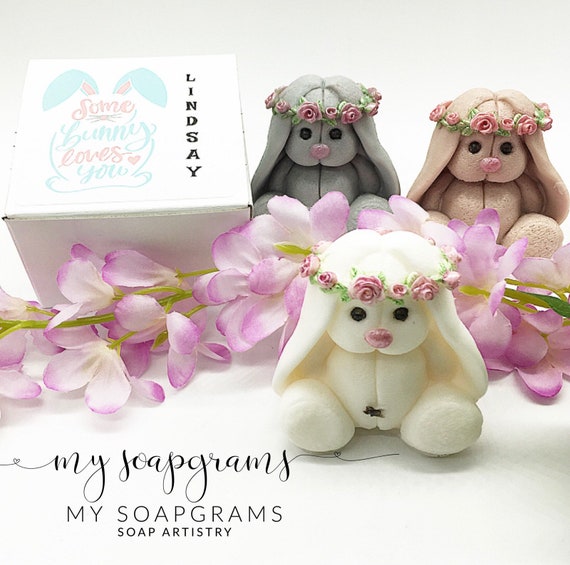 Bunny Rabbit Soap Gift Easter Bunny Soap Gift Easter Soap Gift Some Bunny loves you
By My Soapgrams
Product Info
♥´¨)
¸.•´¸.•*´¨) ¸.•*¨)
(¸.•´ (¸.•` ♥ Bunny Rabbit Soaps!
"Bunny kisses . . . Easter Wishes!
«·´`·.(*·.¸(`·.¸ ¸.·´)¸.·*).·´`·»
«·´¨*·.¸¸.*My Soapgrams*.¸¸.·*¨`·»
«·´`·.(¸.·´(¸.·* *·.¸)`·.¸).·´`·»
Color: Beige, White, Gray
Size: 2" x 2.35" x 1.5"
Weight: 2.6 oz each...........5.2 ounces total
Packaging: Gift Boxed.
Quantity: 1 Soap Bunny Rabbit.
The purchase of this listing is for ONE Easter bunny rabbit wearing a flower garland headband decorative soap with the following specifications and options:
•Ingredients•
Premium Glycerin soap base(vegetable)
Coconut Oil
Palm Oil
Purified water
Sodium hydroxide (saponifying)
Sorbitol(moisturizer)
Sorbitan oleate (sweetening agent)
Natural Fragrance oils
Contact us for a custom order!
Our soaps are "Detergent Free" glycerin Soaps!
Our Glycerin Soaps gently cleanses the skin without stripping of the natural oils!
Our Glycerin Soaps are free of chemicals, harsh dyes or ingredients that irritate!
Our Glycerin Soaps help retain moisture in our skin!
Our Glycerin Soaps are non-irritating and hypoallergenic!
If you prefer "NO FRAGRANCE" please in message box when ordering!
Great for wedding decorations, wedding party favors, cheap wedding favors, personalized wedding favors, personalized wedding soap favor, party favors, wedding party favors, party favors ideas, favors for wedding guests, wedding shower favors, bridal shower favors, affordable wedding favors, rose wedding favor, flower wedding favor, baby girl shower favors, girl baby shower decorations, cheap baby shower favors, baby boy shower favors, baby boy shower decoration, baby shower party favors, unique baby gifts, unique baby shower favors, baby shower decorations, baby shower gift, baby shower themes, personalized baby shower favors, affordable baby shower favors, rose baby shower favor, flower baby shower favor, kids birthday party favors, first birthday party favors, personalized gifts, birthday party decorations, soap, soap for kids, soap for her Hoppy Easter Happy Easter Easter Bunny Rabbit Easter