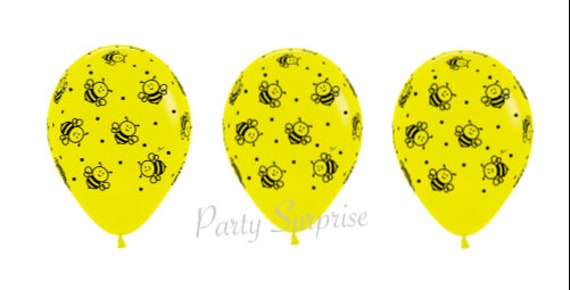 Bumblebee Balloons 11" Bumble bee Shower Party Decorations Balloon Package Who will it Bee? Will you Bee Mine? Yellow bumblebee balloons
By Party Surprise, Etsy
Product Info
BBBzzzzzzzz!!! This adorable bumblebee balloon package will buzz it's way right into your party!
* Yellow bumblebee balloons latex, by Qualatex; inflate with air or helium to 11". So cute for your bumblebee themed parties!
Select the number of balloons from the drop downs in the order box.
See my other bumble bee items, some shown above:
www.etsy.com/shop/PartySurprise?ref=hdr_shop_menu&search_query=bumblebee
REVIEWS ON THIS ITEM:
5 STARS, Wilmarie
5 STARS, "SO CUTE! I can't wait to use them in March!", Megan
5 STARS, "Can't wait for the party. so cute!", Amanda
5 STARS, "Just adorable balloons,,,,,thanks a bunch !!!!!", Purpleflower
5 STARS, "They are perfect! Shipped very fast and great communication!", MuddyGurl
5 STARS, Brittany
5 STARS, "Purchased these adorable bee balloons to use for a display table for my business - wish I could upload a photo! My business logo is a bee. The florist who inflated them thought they were cute, as did another customer in the parking lot before I got them into my car! They are just perfect! In fact, I just placed a reorder...", Helen
***********************************************************************************
Don't forget your balloons, balloon arch/garland kits, photo prop sets, fancy straws, tableware sets, mini popcorn boxes, Euro gift bags, gift/favor/treat bags, tissue tassel garlands & balloon tails, custom wedding confetti wands, party tableware, disposable cutlery, cake toppers, and cupcake toppers & wrappers - I have what you want!
Balloon color and size charts here:
www.etsy.com/shop/PartySurprise?ref=hdr_shop_menu&search_query=color+chart
Confetti Balloons & Table Confetti:
www.etsy.com/shop/PartySurprise?ref=shop_sugg§ion_id=25395318
Balloon arches/garlands:
www.etsy.com/shop/PartySurprise?ref=shop_sugg&search_query=garland
Photo Prop Sets:
www.etsy.com/shop/PartySurprise?ref=shop_sugg§ion_id=22959761
Disposable Cutlery:
www.etsy.com/shop/PartySurprise?ref=shop_sugg&search_query=cutlery
Fancy Straws: www.etsy.com/shop/PartySurprise?ref=hdr_shop_menu§ion_id=14449328
Party Tableware:
www.etsy.com/shop/PartySurprise?ref=shop_sugg§ion_id=15478643
Mini Popcorn Boxes: www.etsy.com/shop/PartySurprise?ref=hdr_shop_menu§ion_id=15478643
Tassel Garlands: www.etsy.com/shop/PartySurprise/items?ref=pagination§ion_id=19770755
Custom Number Cards:
www.etsy.com/shop/PartySurprise/items?ref=pagination§ion_id=19936436
Cupcake Wrappers: www.etsy.com/shop/PartySurprise?ref=hdr_shop_menu&search_query=cupcake+wrappers
Cupcake Toppers: www.etsy.com/shop/PartySurprise?ref=hdr_shop_menu&search_query=cupcake+topper
Favor and Treat Bags: www.etsy.com/shop/PartySurprise?ref=hdr_shop_menu§ion_id=14448891