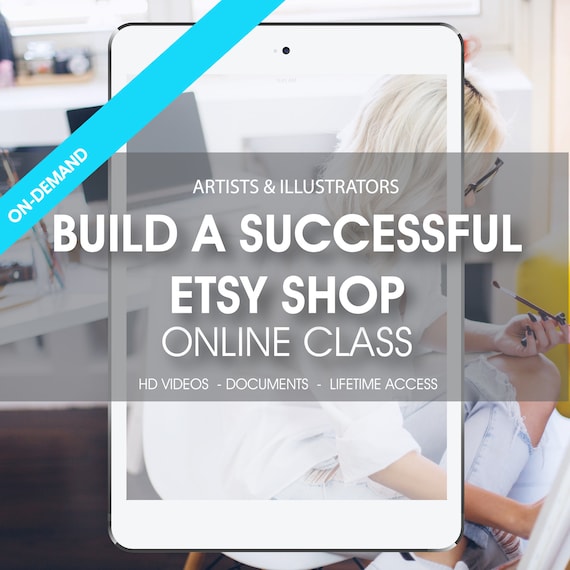 50% OFF SALE Build a successful Etsy Shop, Etsy online class, Etsy online course, SEO course, Etsy workshop with #1 Top Seller
By Prettygrafik design
Product Info
***Build, promote and grow a successful Etsy Shop ***
LEARN HOW TO RUN AN ETSY SHOP FROM ETSY #1 TOP SELLER IN HANDMADE CATEGORY!

You love creating and want to be on Etsy? You already have an Etsy shop but wish to bring it to the next level? We want to show you how to turn your passion into a money making online shop.
Do you want to have a successful Etsy shop? Do you want to bring your etsy shop to the next level? What are the secrets behind the top sellers on Etsy?
- WHAT YOU WILL LEARN:
- Build a store around your craft
- Discover your market
- Setup a store the right way
- SEO, keywords and marketing strategies
- Develop a social media strategy
- Customer service and online business
- Build a strong brand and increase your sales
WHAT YOU WILL GET:
- 3 Hours of HD Video lessons
- Exclusive Workbooks and Tools
- Lifetime access, anywhere, anytime
- Streaming and downloadable files
- Available on desktop, mobile and tablet
This (3) hour VIDEOS is designed to give you the tools and knowledge you need to know to build a successful shop on the renowned marketplace. Learn from the Top 1 Etsy shop worldwide in the handmade category with over 325 000 sales, Prettygrafik Design. This successful shop is owned by the husband and wife team Gabriel and Sarah who have over 15 years of experience in the design and giftware industry.
***You love creating. Now let's make money on Etsy ***
This three session online workshop will give you an inside look on how Gabriel and Sarah built Prettygrafik and all the different tools and strategies you need to know to be successful on Etsy. Yes! There is a lot more to it than having good pictures and proper descriptions and tags.
In this Online Class, you will learn to:
– Define and analyse your market, your brand and your pricing and apply it to the Etsy marketplace
– Promote within as well as outside of Etsy and how to use various social media outlets and marketing techniques to grow your Etsy shop
– Grow a strong brand and get known in the online world.
– Reinvest your profits and manage it as a real business to bring it to the next level and become a top seller.
All rights reserved ©2017 Prettygrafik Design inc.