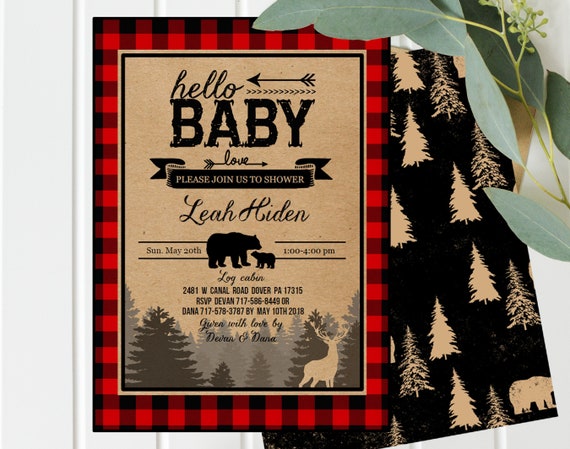 Buffalo Plaid Baby Shower Invitation - Rustic Boy Baby Shower Invitation - Lumberjack Baby Shower Invitation - Red Plaid - Printable Files
By Cassia Leigh Design
Product Info
S N A G ⋆ Y O U R ⋆ I N S T A N T ⋆ D I S C O U N T ⋆ C O D E ⋆ H E R E
────────────────────
www.CassiaVIPs.com
These Red Buffalo Plaid Baby Shower Invitations are the PERFECT addition to celebrate YOUR Baby Shower. (♥ Lumberjack theme♥) Best of all, they are an INSTANT DIGITAL download, that you can download, edit, and print as many as you like - TODAY! * Easy Breezy.
♥See my reviews to see how much my customers (and you too will) love my designs.♥
────────────────────
P R I N T ⋆ H A P P I N E S S
────────────────────

I M A K E Y O U L O O K G O O D !
────────────────────
I know EXACTLY how busy you are being awesome; THAT is why I have taken out all of the stress of coordinating and styling your event so you can get to the fun part; THE PARTY (and especially the CAKE).
I make you look GOOD! (I'm talking, Pinterest, swoon-worthy GOOD!)
────────────────────
L I V E I N Y O U R W O R L D ; P A R T Y I N O U R S !
────────────────────
W H A T ⋆ Y O U ⋆ A R E ⋆ G E T T I N G
────────────────────
○ Buffalo Plaid Baby Shower Invitations (backside included PLUS free thank you cards as a bonus)
○ DIGITAL - EDITABLE PDF files - Instant Download
You will be able to easily customize the text in these templates right from your own computer to make your celebration completely personal. All of the fonts and formatting stay the same.
♥For the COMPLETE list of everything included, scroll down to see the section titled "COMPLETE ⋆ LIST ⋆ OF ⋆ CONTENTS" - And BE SURE to scroll through all of the images above.
○ DETAILED INSTRUCTIONS, INCLUDING A VIDEO TUTORIAL so that even if you don't know a thing about tech, you will look and feel like a total pro!
Once you download your files from InvitedbyCass, you will be able to edit from your computer/laptop (ONLY - no phones or tablets for editing) simply using the FREE version of Adobe Reader (ONLY - no other pdf viewers/programs will work properly). Download it at:
https://get.adobe.com/reader/
*(be sure UNSELECT the add - ons)
PLEASE NOTE that you WILL NOT be able to edit from a tablet or a phone. If that is all you have access to, simply add the "EDIT MY ORDER" and I will edit it for you. Easy peasy.
EDIT * MY * ORDER: https://etsy.me/2fG5ooe
○ Any frames, table holders, flowers, and accessories are not included.
H O W ⋆ I T ⋆ W O R K S
────────────────────
○ Within minutes after your purchase, you will receive an email (check your spam folder if you don't see it)
○ Follow the link to access your downloadable files
○ Following the instructions, make all your changes to the template and save.
○ Print at home, copy center or an online printer.
○ NOTE: You can also access your downloadable files by clicking on the "You" tab in the top right corner of your etsy screen, then select "PURCHASES AND REVIEWS" and there you'll see your files from me ready to download. Just be sure to download ALL of them and you'll be golden.
P O P U L A R ⋆ M A T C H I N G ⋆ I T E M S
────────────────────
○ My P O P U L A R Buffalo Plaid Baby Shower WITH invitations bundle INCLUDES everything in this bundle plus the invites discounted to save you extra moola, so you can skip over and snag it all at my "Bundle and Save" discounted price here: https://etsy.me/2D4VNFC
○ Buffalo Plaid Baby Shower Favor tags (included in bundle): https://etsy.me/2U90Kmv
○ ALL Buffalo Plaid Shower Listings: https://etsy.me/2WYPriz
○ Anything Else You Need!
C O M P L E T E ⋆ L I S T ⋆ O F ⋆ C O N T E N T S
────────────────────
(All the good stuff you will get with the purchase of THIS listing)
○ Instructions: These are number one for many reasons. Pretty please peek over them. xox :)
○Themed Party Invitations (5" x 7") (Print two invitations per page)
○ Back Side (2 options)
○ Matching Thank you Cards - (FREE BONUS!!)
○ A separate invitation page (with a single 5x7 invite) for converting to a jpg for sending out electronically. Ie: text, email, social media etc.
♥Please note: The "Hello Baby" is the ONLY text that is not editable - If you would like to that or change any other text out (placement, style or otherwise), or if you wish to have me edit these for you, I'm so happy to do that
simply, add the "EDIT MY ORDER" to your purchase and I will gladly customize that portion for you. ♥
EDIT * MY * ORDER:
────────────────────
https://etsy.me/2fG5ooe
W H E R E & H O W ⋆ T O ⋆ P R I N T
────────────────────
○ Home printer
○ Copy centers such as Staples, UPS Store, OfficeMax or Kinkos FedEx Office
○ Local print shop or online printer
○ Always print on bright white stock
I M P O R T A N T ⋆ D E T A I L S
────────────────────
○ This template WILL NOT work on a tablet or mobile device.
○ Unless otherwise stated, all invitations are formatted to 5x7 in, OR 7X5 in respectively, and PDF designs are intended to print on bright white stock, 8.5in x 11in, or A4 paper.
○ As a general rule, DO NOT select "scale to fit" during printing.
○ This listing is for the design file only. Items do not include color or design changes, layout changes, or cropping of the template. If you have special requests, CONVO ME to see if I can accommodate for a small fee.
○ NO physical product is being shipped. It is a digital downloadable file with the rights to print as many as you need for your own personal use.
Q U E S T I O N S
────────────────────
I work MON-FRI and occasionally on Saturdays. I do my best to respond within 6-24 hours MON-FRI. If there's a large volume of emails, or if troubleshooting is required, a reply can take longer. Please be patient with me; I always make it worth it!
Check out my FAQs: https://etsy.me/2IhMPZg
F O L L O W ⋆ M E
────────────────────
Instagram: https://www.instagram.com/invitedbycass/
Pinterest: https://www.pinterest.com/invitedbycass/
See what my customers are creating or share your final product using #invitedbycass on Instagram!
R E T U R N S
────────────────────
Due to the nature of this product, digital downloads are not eligible for refunds. All sales for delivered files are final. Kindly message me to seek any clarification - I am very convo friendly and can help you 100% of the way. Just see all of my glowing reviews if you have any hesitation. I aim to please!
T H A N K ⋆ Y O U
Invited by Cass
────────────────────
© Copyright 2018 of Invited by Cass LLC.
────────────────────