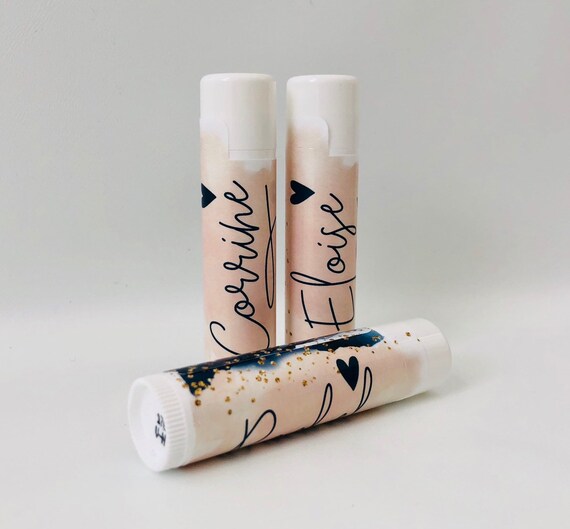 Personalized Bridesmaid Chapstick Gift, Bridal Party Favor, Wedding Day Gifts, Will You Be My Bridesmaid, Maid of Honor
By Sweet Talk Designs
Product Info
Our chapsticks make a great party favor. Use them as part of a hangover kit by adding them to our small or large tins, or use them as fillers in your bridesmaid proposal gift boxes.
Our chapsticks come in many flavors and are made with all-natural ingredients.
Each chapstick comes with label adhered prior to shipping and includes tamper-proof tab. No work necessary!
We use premium watercolor graphics and carefully selected fonts in our designs and print on premium glossy label paper.
—>CHERRY CHAPSTICK INGREDIENTS (WHITE TUBE)<—
Soybean Oil, Sunflower Oil, Beeswax, Cocoa Butter, Shea Butter, Vitamin E, Aloe Vera, may also contain FD&C Colors & Flavor
-->WATERMELON, STRAWBERRY, GREEN APPLE, PEPPERMINT, COFFEE, S'MORES, CHOCOLATE, CHAMPAGNE, TROPICAL FRUIT, LAVENDER, PUMPKIN, ROSÉ, AND PIÑA COLADA INGREDIENTS (CLEAR TUBE)<--
Castor Seed Oil, Canola Oil, Cocoa Nut Butter, Olive Oil, Beeswax, Soybean Oil, Carnauba Wax, Candelilla Wax, Canola Oil & Flavor
Peanut, Tree Nut and Gluten Free
Handmade in the USA.
Thank you!