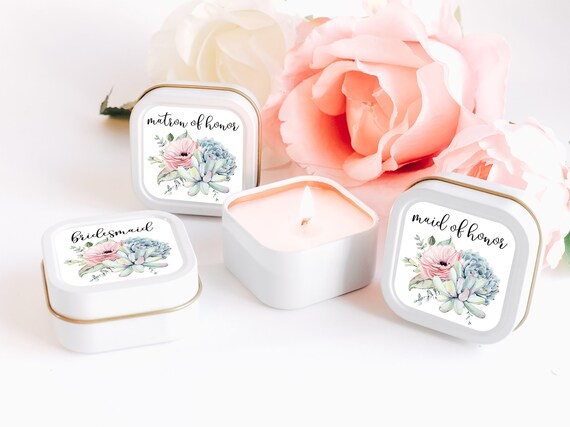 Bridesmaid Candles 12ct Bridal Party Candles - Bridesmaid Gifts - Maid of Honor Candle - Matron of Honor - Mother of the Bride Soy Candle
By Momentos Events
Product Info
Bridesmaid & Bridal Party Candles make a great gift for your girls at your wedding. What a great way to say thank you to all your girl-friends for helping you on your big day. Each high quality 1.5 oz candle tin comes personalized with a title and fragrance of your choice. The order comes with 24 labels so you can select which labels you want to use.
Do you need something more customized, no problem, just contact me for more info.
Made to order, you select the candle fragrance you like. Choose from the many candle fragrances available (see fragrance chart). All fragrances come in white, as per the natural soy wax color. Made with SOY wax and ECO wicks. No color is added to the candle wax. These candles are hand mixed and poured, slight variations might occur in each product. Candles are freshly made, so the fragrance lasts you a while.
Labels come attached to candles, just open the box and share them with your guests. High-quality candles, designed by you!
Only sells in multiples of 12. Every dozen will be the same design and fragrance.
Size: 1.5oz
Handmade with love.
¨)
¸.•´¸.•*´¨) ¸.•*¨)
(¸.•´ (¸.•´ *YOU ARE PURCHASING
♥ 12 Candles with the fragrance of your choice
♥ 24 Labels - with bridal party titles and blank ones
You will receive labels in this configuration:
24 LABELS - printed with a succulent design - extra labels are given so you can choose which ones you want to use according to your bridal party set up:
1 bride
1 mother of the bride
1 mother of the groom
2 maid of honor
2 matron of honor
3 flower girl
6 bridesmaid
6 bride tribe
2 flowers only no text
¨)
¸.•´¸.•*´¨) ¸.•*¨)
(¸.•´ (¸.•´ *POLICIES
By purchasing this product you are agreeing to the policies of this Etsy shop. PLEASE READ my POLICIES page and FAQ before purchasing an item or if you have any questions regarding PROCESSING or SHIPPING times.
¨)
¸.•´¸.•*´¨) ¸.•*¨)
(¸.•´ (¸.•´ *SEE ALL SILVER CANDLES
https://www.etsy.com/shop/MomentosEvents?order=custom&section_id=19165406
¨)
¸.•´¸.•*´¨) ¸.•*¨)
(¸.•´ (¸.•´ *SEE ALL ROSE GOLD CANDLES
https://www.etsy.com/shop/MomentosEvents?order=custom&section_id=27115383
¨)
¸.•´¸.•*´¨) ¸.•*¨)
(¸.•´ (¸.•´ *SEE ALL GOLD CANDLES
https://www.etsy.com/shop/MomentosEvents?order=custom&section_id=27099352
¨)
¸.•´¸.•*´¨) ¸.•*¨)
(¸.•´ (¸.•´ *SEE ALL WHITE CANDLES
https://www.etsy.com/shop/MomentosEvents?order=custom&section_id=27099364