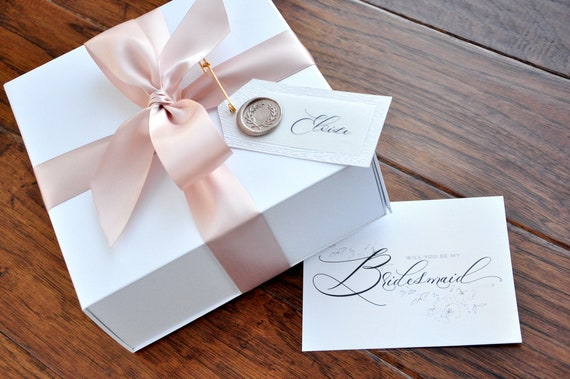 Will You Be My Bridesmaid Box. (Qty. 1- Unfilled Box) Bridesmaid Proposal Box Champagne. Bridesmaid Proposal Gift. W8MC.
By Confetti Momma
Product Info
This gorgeous bridesmaid proposal gift box packaging kit adds a perfect personalized touch to your bridal party gift giving.
INCLUDED IN THE PRICE:
• Easy Assembly Magnetic Closure Gift Box
• 6 Feet of Satin Ribbon from a Huge Selection of Color Options
• Elegant & Personalized Gift Tag With Wax Seal
• Opulent Gold Plated Safety Pin
• Lovely Proposal Card Insert
Using Confetti Momma's will you be my bridesmaid box will be such a thoughtful way to propose to your bridesmaids as well as your entire wedding party. Simply fill your box with wedding day treats and gifts, tie it up with our luxurious satin champagne ribbon and watch as each recipients' eyes light up when they open their personalized bridesmaid proposal gift!
The size of our bridesmaid gift box is 8"W x 8"D x 3.25"H making it the perfect size for fitting items such as a satin robe, or a variety of items such as sunglasses, hair ties, cosmetic bags and even their favorite mini bottle of soda and wedding ring straw.
HOW TO ASSEMBLE:
This bridesmaid proposal box is created with an easy assembly concept. For a step by step assembly video tutorial, copy and paste this link into your browser: https://youtu.be/_c0ljNXxTwI or follow the steps below.
• First, remove the triangle papers covering the adhesive strips from the collapsed white box making the box shape permanent.
• Second, fill your box with your gift or gifts (sold separately) and place your "Will You Be My Bridesmaid" card on top of your gifts or tape or glue your card to the inside flap of the box.
• Thirdly,tie the ribbon around the box into a beautiful full bow.
• Finally, open the gold plated safety pin and slip the point through the circle opening of the personalized gift tag and then slip the pin around the satin ribbon and close the safety pin.
CARD INSERT WORDING OPTIONS:
• Will You Be My Bridesmaid?
• Thank You For Being My Bridesmaid
• Will You Be My Maid of Honor?
• Thank You For Being My Maid of Honor
• Will You Be My Matron of Honor?
• Thank You For Being My Matron of Honor
• Will You Be My Flower Girl?
• Thank You For Being My Flower Girl
• Will You Be My [Custom Wording]
• Thank You For Being My [Custom Wording]
• [Custom Message | Wording]