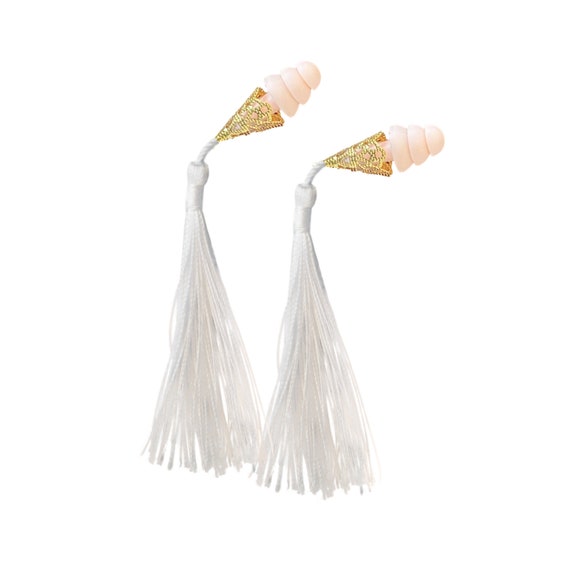 Product Info
Reduce distracting noise pollution and protect your hearing in style with a pair of tassel earplugs from The Sleepy Cottage. Designed to filter background noise while you study, rest, travel or sleep. Enhance your experience at concerts and sporting events by reducing decibel exposure without blocking sound completely.
Handcrafted, high quality replica of the iconic earplugs worn by Audrey Hepburn in her role as Holly Golightly in the movie "Breakfast at Tiffany's". Each pair features silky, 4 inch tassels dangling from hypoallergenic silicone earplugs accented in gold filigree. Our flanged earplugs are durable, washable, and designed to fit most ear canals comfortably.
Storage pouch included and available in a variety of colors, pair up with any of our adorable sleep masks for the ultimate self care experience. Thoughtful and unique gifts for new moms, brides, teachers and travelers.
To use, gently insert earplug into ear with slight twist. The last flange should be flush with ear canal opening. Twist slightly for removal. Wash earplug with warm soapy water and dry completely before storage or use.