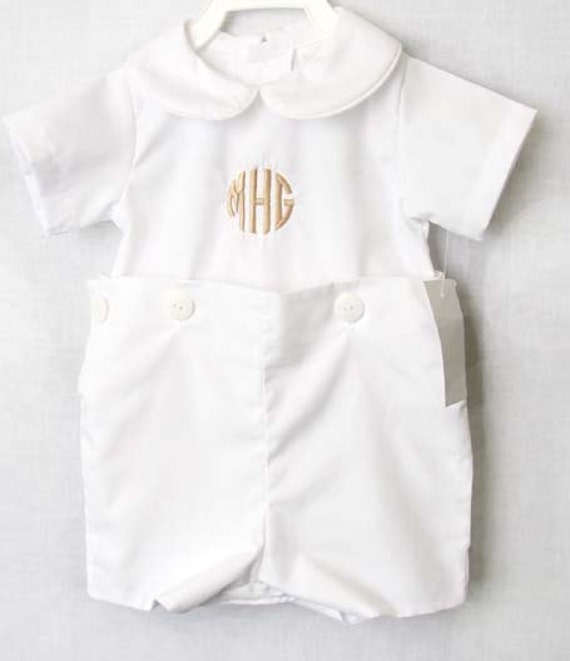 Boys Baptism Outfit, Baptism Clothes for Boy, Baptism Boy Outfit, Baby Boy Baptism Outfit 292482
By Zuli Kids
Product Info
Baby boy clothes in a baby boy romper is one cute baby boy coming home outfit item from our kids boutique store. Our childrens shop offers baby boy baptism outfit and things for twin babies in many styles.
Button on outfit is all white with ecru circle monogram. It is available with monogram or cross.
Baby Boy Coming Home Outfit - Baby Boy Clothes |Baby Boy Baptism Outfit- White Baby Romper |Baby Boy Christening Outfit
We use 2 measurements so you can check to see what size you need. I suggest that you measure a garment that fits him or will fit him when you need him to wear it since we have a no return policy on custom made garments.
We use chest.............measured from armpit to armpit
Crotch........................measured from the back of the neck where the top button would be to the center of the crotch of the garment.
Baby Button-On........... Chest...................Crotch
NB............................ 9.5 in.......................14.5 inches
3 Mo .......................10.25 in.....................15.5 Inches
6 Mo........................10.75 in....................16.5 inches
9 Mo.........................11.25 in.....................17.5 inches
12 Mo........................11.5 in.......................18.5 inches
18 Mo........................11.75 in.......................19 inches
24 Mo........................12.25 in.......................20 inches
2T..................... .........13...............................20.5 inches
3T...............................13.5.............................21 inches
4T..............................14......................... .....21.5 inches
Baby Boy Clothes - Twin Babies - Infant Twin Outfits - Outfit for Newborn - Baby Boy Clothes - Boy Bubble - Baby Clothes - Baby Boy Coming Home Outfit - Baby Boy Easter Outfit - Newborn Boy Coming Home Outfit - Baby Baptism Outfit - Baby Boy Clothes - Baby Boy Christening -Baby Christening Outfit - Baby Boy Baptism Suit - Infant Boy Baptism