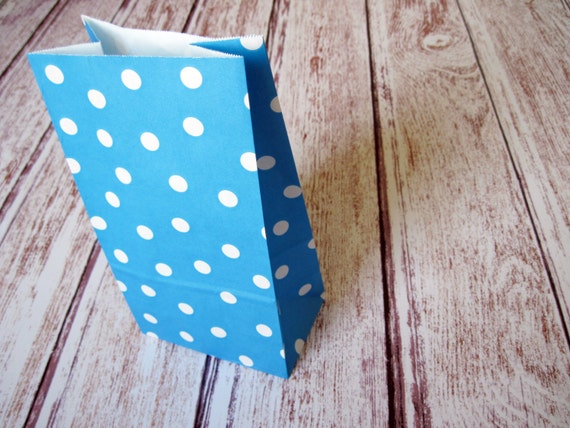 Party Favor Bags-10 BLUE Polka Dot Lunch Sack-Dotted Party Favor Bags-Wedding Gift Bag-Polka Dot Birthday Treat Bag-Blue Goodie Bag
By Creative Juice Cafe
Product Info
Set of 10 ~ 5" x 9.5" with a 3" gusset paper bags as shown in the first photo.
Why settle for boring paper bags. These bags are so much fun and perfect for - Weddings, Carnivals, Parties, Baby and Bridal Showers and so much more.
These bags are perfect for any of your packaging needs. Use them for boutiques, bakeries, or to wrap or embellish small gifts. Also are perfect packaging for your favorite candy, cookies, popcorn, snacks, gifts, or other treats for a bright and colorful addition to your party, weddings, birthday, baby shower, graduation, holiday gatherings!!
Decorate with stamping, stickers, ribbon, bakers twine and other crafting supplies!!!
Bags come in a rainbow of colors. Refer to the second photo to see all the available colors. The last photo shows all of the colors and patterns we have available in the small size of bag.
Set of 10 bags___________________________________________________________
Want to get the best price possible? Use the following coupon codes-
SAVE10 ---- 10% off a minimum purchase of $10
SAVE15 ---- 15% off a minimum purchase of $25
SAVE20 ---- 20% off a minimum purchase of $60
________________________________________________