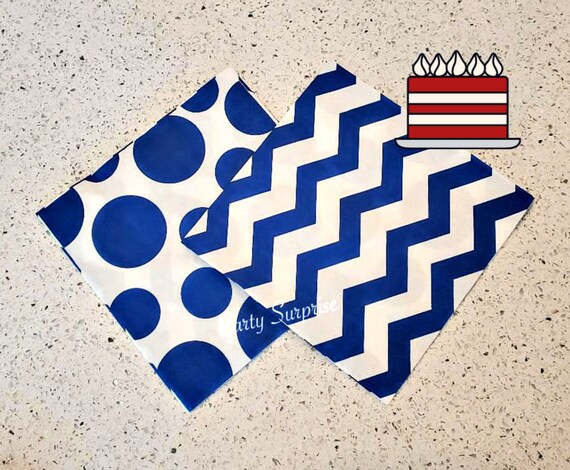 Blue Napkins Paper Napkin Luncheon Napkins Royal Blue & White Chevron Dots Napkins Birthday Nautical Birthday Napkins
By Party Surprise, Etsy
Product Info
Blue and white paper luncheon napkins are double sided - two sides have chevron, two sides have dots! Perfect for nautical parties, under the sea party, lazy summer days, al fresco lunches, and birthday parties.
Luncheon size about 6.5"x6.5", 2-ply.
Mix with matching green and pink napkins, available here:
www.etsy.com/shop/PartySurprise?ref=shop_sugg&search_query=napkin
Select the number of napkins from the drop downs in the order box. Add to your cart.
Repeat to order additional items.
**Add RUSH to your order - your order will be moved to the top of the orders list and shipped by Priority mail.
*****************************************************
Don't forget your balloons, balloon arch/garland kits, photo prop sets, fancy straws, tableware sets, mini popcorn boxes, Euro gift bags, gift/favor/treat bags, tissue tassel garlands & balloon tails, custom wedding confetti wands, party tableware, disposable cutlery, cake toppers, and cupcake toppers & wrappers - I have what you want!
Balloon color and size charts here:
www.etsy.com/shop/PartySurprise?ref=hdr_shop_menu&search_query=color+chart
Confetti Balloons & Table Confetti:
www.etsy.com/shop/PartySurprise?ref=shop_sugg§ion_id=25395318
Hot Air Balloons:
www.etsy.com/shop/PartySurprise?ref=shop_sugg&search_query=hot+air+balloon
Balloon arches/garlands:
www.etsy.com/shop/PartySurprise?ref=shop_sugg&search_query=garland
Photo Prop Sets:
www.etsy.com/shop/PartySurprise?ref=shop_sugg§ion_id=22959761
Disposable Cutlery:
www.etsy.com/shop/PartySurprise?ref=shop_sugg&search_query=cutlery
Fancy Straws: www.etsy.com/shop/PartySurprise?ref=hdr_shop_menu§ion_id=14449328
Party Tableware:
www.etsy.com/shop/PartySurprise?ref=shop_sugg§ion_id=15478643
Mini Popcorn Boxes: www.etsy.com/shop/PartySurprise?ref=hdr_shop_menu§ion_id=15478643
Tassel Garlands: www.etsy.com/shop/PartySurprise/items?ref=pagination§ion_id=19770755
Custom Number Cards:
www.etsy.com/shop/PartySurprise/items?ref=pagination§ion_id=19936436
Cupcake Wrappers: www.etsy.com/shop/PartySurprise?ref=hdr_shop_menu&search_query=cupcake+wrappers
Cupcake Toppers: www.etsy.com/shop/PartySurprise?ref=hdr_shop_menu&search_query=cupcake+topper
Treat & Favor Bags: www.etsy.com/shop/PartySurprise?ref=hdr_user_menu-shop&search_query=treat+bags