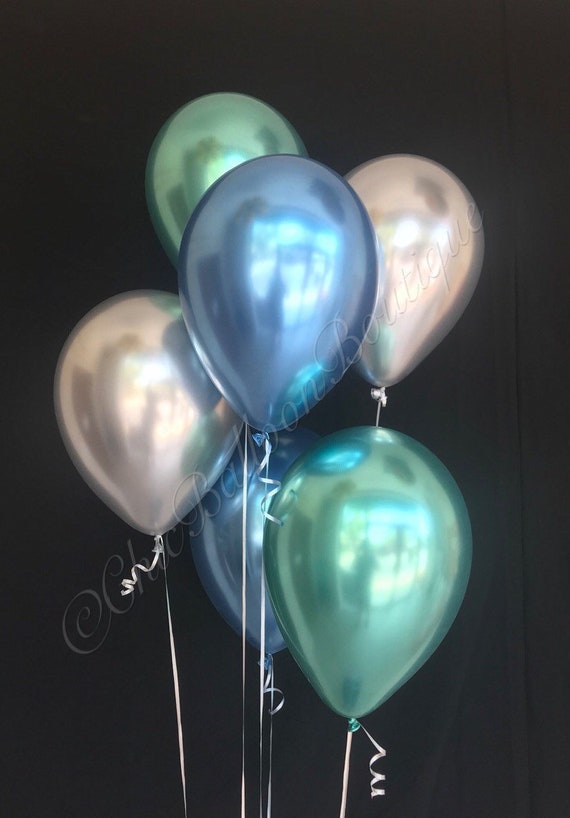 Blue and Green Balloons - Fathers Day Balloons - Gifts for Dad - Under the Sea Decorations - Mermaid Decorations - First Birthday Balloon
By Chic Balloon Boutique
Product Info
These Qualatex Balloons are one of the highest quality balloon on the Market. Your purchasing the best of the best for float time and color selection. These Balloons stand out, preferred by balloon professionals around the world, these balloons will take any party or event to the next level.
This listing includes:
The all new CHROME balloons 2 Blue, 2 Green, 2 Silver
Balloon size is 11"
*IMPORTANT BALLOONS CAN BE A CHOKING HAZARD!
*Keep in a cool place for the best quality of the balloon, extreme heat or other weather conditions will affect this product.

*This balloon can be inflated with helium or air. (When inflated with air the balloon will not float)
*DO NOT over inflate balloon or it will pop.
*This balloon doesn't include a string.
*The balloon is being sent flat and deflated.
*You can take balloons to your local party store or super market to have inflated. *These balloons are to be inflated the day of the event for optimum float time.
We can create custom orders within our shop, look forward to new and creative arrangements coming soon!!!
Any questions feel free to contact us!!!
#chicballoonboutique #creativecompany #makingmemories