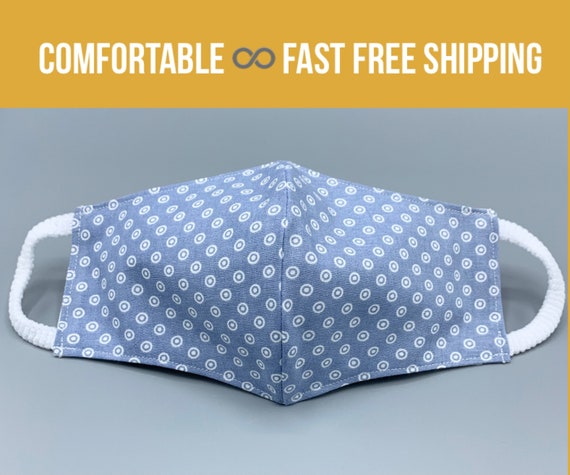 Favorite mask, blue cotton print face mask, 3 layers w/ filter pocket, nose wire seam, soft ear loops, washable, reusable, sizes P S M L XL
By GiftGarbBags
Product Info
**** PLEASE READ ALL This is a blue face mask in either a light gray blue white dot screen print or a navy retro vintage 70's paisley print. It is a 3 layer mask with a filter pocket with the option to add a filter (4th layer of protection). Cover fabric is a lighter weight cotton screen print fabric.
Choose either:
1. Blue gray dot
2. Blue Retro Paisley
The masks are cotton fabrics with soft white nylon ear loops (Softer and more comfortable than elastic) **These do contatin LATEX**
**NOSE WIRE NOTE - (I am happy to sew a channel in the mask for you to insert your own nose wire, just leave me a note, this will be a second seam under the top seam that you can access under the filter pocket to insert a nose wire (undo a coated paperclip or use a pipe cleaner)
The lining and filter pocket fabric WILL vary as supplies last but will match and be of the same quality.
*mask on model is a different similar print but style is the same.
This is NOT a medical or surgical mask. These masks are for public use to help you keep your hands off your face and to help preventing your germs from spreading if you cough or sneeze.
Handmade in the USA
Washable and Reusable
Machine washable, wash warm with mild detergent, for best results wash in a mesh washing bag. Lay or hang to dry reshaping while damp.
Ships out in 1-2 business days, standard free shipping is USPS flat, 2 - 6 business days. If you want faster shipping service please upgrade the shipping to Priority mail in the cart during purchase.
SIZES: (see sizing guide below sizes)
To help determine size, measure from ear to ear across the front of the face starting at the back of one ear across under your nose on the upper lip and to the back of the other ear. Use a string and then measure on a flat ruler or use a sewing type tape measure.
Measure Ear to ear in inches
▪️ kids small ages 3 - 5 (smallest mask 9- 10 inches ear to ear
▪️ kids medium ages 6-8 (10-11 inches ear to ear)
▪️Adult Petite smaller mask with ear to ear loops 11 to 12 inches
▪️ Adult Small- 11 to 12 inches ear to ear
▪️ Adult Medium - 12.5 to 13.5
▪️ Adult Large - 14 to 14.5
▪️ Adult Extra Large- 14.5 - 15.5
Note- see separate 2X listing for custom larger size
*Adult Masks S, M and Large are all basically the same size, but the ear loops will vary in length based on these sizes. The petite is slightly smaller and the Extra Large is a little bigger.
For really tall, big or hard to fit, please see my custom made listing. https://etsy.me/2WIkP7P
Masks are made of cotton fabric lined with 100% cotton or mostly cotton fabrics for a comfortable fit.
Masks are not medical masks and, if used alone, offer only a minimal physical barrier.
We make no medical claims with regard to their usage.
Masks do come with the option to insert filters.
If you have any questions, please email me!
ALL SALES FINAL due to the nature of the items for personal use they are not returnable for safety reasons.