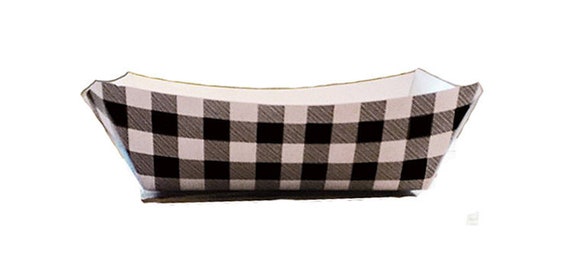 Product Info
This adorable food tray is sure to be a hit at your next event. Perfect for holiday parties, tailgating, picnics, food truck events or a rustic wedding. These versatile trays come in 4 different sizes. They are made from restaurant quality trays and covered with our own labels.
They coordinate perfectly with our other buffalo plaid party supplies.
Choose from 5 different sizes (see third image for photo of sizes -- click on the arrow on the main photo - EXTRA LARGE not shown). This listing is for 12 of one size in one color only.
SMALL (good for french fries, candies, side dishes) - 8 oz. trays (size Top: 5"L x 3 3/4"W Bottom: 3 1/2"L x 2"W Depth: 1 1/4")
MEDIUM (good for french fries, sliders, candies, side dishes)- 1 lb. trays (size Top: 5 3/4"L x 4"W Botttom: 3 7/8"L x 2 1/4"W Depth: 1 1/2)
LARGE (good for hotdogs, hamburgers, french fries, side dishes) - 2 lb. trays (size Top: 6 1/2"L x 5"W Bottom: 4 1/2"L x 2 3/4"W Depth: 1 1/2")
EXTRA LARGE( good for sandwiches & chips; hamburgers & chips or fries; hotdogs & chips or fries) - 3 lb. trays (size Top:8"L x 6"W; Bottom: 5 1/2"L x 3 1/4"W; Depth: 2")
JUMBO (good for a full meal - several dishes or a sandwiches and a few sides) - 5 lb. trays (size Top: 9 1/4"L x 6 3/4"W; Bottom: 6 1/2"L x 3 7/8"W; Depth: 2" )
Our design is hand-assembled and adhered to this food-safe tray.
********PLEASE READ**********
**********************************
HOW TO ORDER
We know how busy you are, but PLEASE take the time to read the following before you purchase
1. Choose your size from the drop down menu. They come in sets of 12. Select the quantity you'd like.
2. All of the items in our shop are made-to-order, which means there is a production schedule involved.
3. PLEASE leave the date by which you need your order in the Notes to Seller area at checkout -- even if it is months away. It helps us with scheduling. If you don't leave a date, your order may ship later than you would like.
4. Production times are approximately 5-8 BUSINESS DAYS. This means that your order will not ship for approximately 5-8 business days after it has been placed. Business days are Monday-Friday. Any order that is requested in less than 10 business days must add the rush listing to the basket. https://www.etsy.com/listing/150829241/rush-charge
5. If you order is large or the requested turn-around unusually fast, the rush fee may increase.
6. Please remember to check your e-mails on a regular basis AFTER you have placed your order. Sometimes we have questions that need to be answered as soon as possible..
For buyers outside the U.S., please contact us for shipping costs to your location.