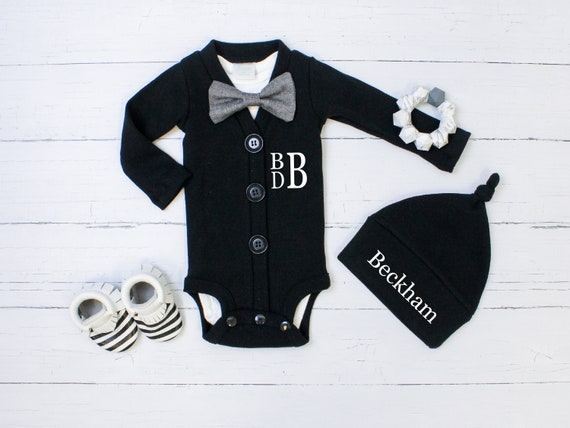 NEW BORN ONLYBlack Monogrammed Baby Boy Clothes. Newborn Boy Going Home Outfit. Coming Home Outfit. Monochrome. Cardigan. Preppy.
By Cuddle Sleep Dream
Product Info
Your little man will be so spiffy to come home!
This listing is for a three piece set:
- 100% handmade BLACK cardigan bodysuit, monogrammed in white
- Short sleeved plain white Carter's bodysuit with added snaps
- Snap on GRAY CHAMBRAY bow tie
Optionally you can add a matching hat with his first name on it. We only have these in a small 0-3m size.
*** Sizing ***
Sizing is very comparable to carters - a bit longer. The plain white bodysuit under the cardigan is carters brand, and this is made to fit comfortably on top. Buy according to the size your child wears in carters.
Please note: the Carters under-bodysuit has been pre-shrunk (in Tide free and clear) but the cardigan has not been pre-washed and some shrinkage is expected/accounted for in the measurements.
*** About 100% Handmade Cardigan ***
Our handmade cardigan design features trim that is sewn together in the middle so it won't pull open at the buttons. Buttons are stitched through both layers of trim, so they do not work, but are very secure. Bottom of the bodysuit has 3 snaps to close.
Fabric is 100% cotton.
Personalization is matte vinyl, added via heatpress.
*** How Long Will it Take? ***
The cardigans are ready to ship, personalization takes up to 5 days. Please always let us know if you have a need-by date within 2 weeks.