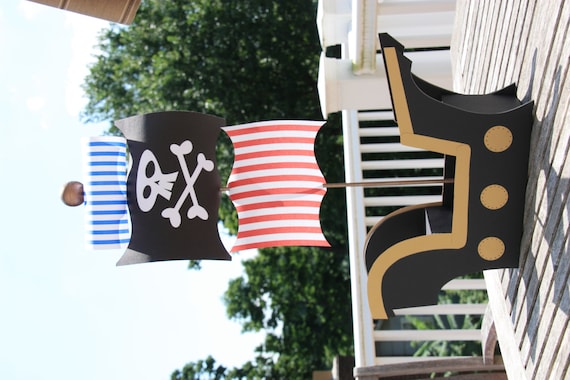 Product Info
This pirate ship is the perfect vessel to display up to 12 pirate or pirate inspired cake pops, dipped marshmallows, or just to stand on it's own at your pirate party. It is a great centerpiece for your treats table and a fun souvenir once the festivities are over. Or place in the middle of a table for something special to decorate with.
Made of paper, cardstock, a foam ball, and a wooden dowel. Sail edges are slightly roughed up to look weathered. All sides are finished, except the bottom. Features three sails and skull & cross bone on the back of the ship.
End-to-end the boat measures 17". At it's tallest (not including mast and dowel) it measures about 8 1/2". With mast and sails it measures about 2' tall.
To prevent damage in shipping, mast and sails will not be attached when shipped, but take only a minute to assemble.
I am happy to change sail stripe colors, or use solids - let me know what you wish for in notes to seller at checkout.