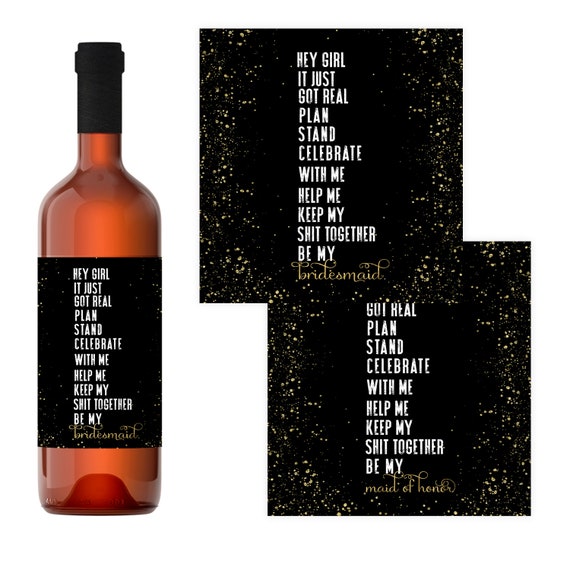 Black and Gold Bridesmaid Wine Bottle Labels (7 Pack) Ways to Ask My Best Girls - Fun Proposal Maid of Honor Sticker - Wedding Party Ideas
By Paper Clever Party
Product Info
He asked, you said YES! Now it is your turn to POP the question to your best girls. Finally, a fun way to ask your bridesmaids, maid of honor and matron of honor to plan, stand and celebrate with you on your journey from Miss. To Mrs.
Set includes:
• 5 Bridesmaid Stickers
• 2 Maid of Honor Stickers
Complete set of 7 wine bottle labels is the perfect pack for inviting your bff's and adding a little excitement to the engagement.
Easy to Use and Apply:
• Durable waterproof stickers that require simple DIY just peel and stick. Simply peel and remove the paper backing and gently apply to your mini wine or champagne bottles. For best results remove the original wine bottle label – peel and stick on room temperature bottles. Bottle labels are durable you can serve your favorite bottle of wine chilled or on ice.
• ****Wine shown in pictures is not included****.
Our gorgeous wine labels are perfect for any wedding theme or style. Uniquely designed by Paper Clever Party you will not find these I can't without you labels for asking your wedding attendants anywhere else. Cheers to Your Celebration!