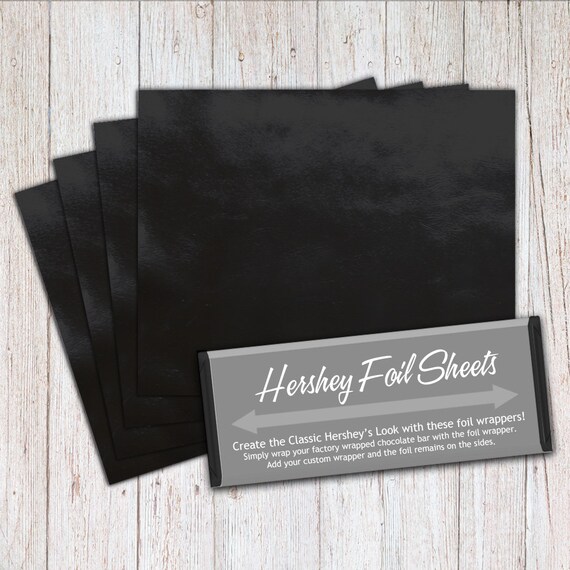 Black Foil Sheets, Hershey Foil Sheets, Hershey Foil Wrappers, Candy Bar Foil Sheets, Foil Wrappers for Wrapping 1.55Oz Hershey Bars
By Printing For Parties
Product Info
★★★ PLEASE NOTE ★★★ Due To COVID-19 - Please contact us PRIOR to placing an order with the date you need this item in hand to make sure we can accommodate you.
Black Foil Sheets Candy Bar Wrappers for 1.55 oz. Hershey© Candy Bars and similar - Create that elegant classic Hershey's® look.
16 Different colors – view em' here: https://etsy.me/2CcbOZQ
Sheet Size: 6" x 7.5"
We also have the clear plastic inserts to protect your Wrapped Hershey Bars. You can order them in this listing too.
★★★ PLEASE READ ALL INFORMATION BELOW BEFORE EMAILING WITH QUESTIONS OR CHECKING OUT (especially if viewing on a phone) ★★★
Foil Sheets for Candy Wrappers add an elegant look for your regular size 1.55 oz. candy bars. The are to be use under your personalized candy wrappers.... but placed OVER the factory wrapped Hershey Bar. You can see a instructional video Here: http://www.PrintingForParties.com/foils The pre-cut foil sheet has a 30# white paper backing to protect the candy bar corners from poking through.
These foil wrappers are sold in packs of 10, 20, 30, 40, 50 and 100 sheets. Larger quantity packs available. Contact us for prompt assistance: https://etsy.me/2UdCL6
Shipping Times:
Order Processing – 1-2 Business Days (not including weekends or holidays)
Standard Shipping (USPS First Class) – 2-6 Business Days Transit Time.
Expedited (USPS Priority Mail) – 1-3 Business Days Transit Time.
– NO RETURNS ON THIS ITEM –
▬▬▬▬▬▬▬▬▬▬▬▬▬▬▬▬▬▬▬▬▬▬▬▬▬▬▬▬▬▬▬▬▬▬

►► CLASSIC LOOK
Hershey candy bar wrappers are brown and no longer have the foil underneath. Foil sheets are used to wrap over Hershey & Nestle candy bars so the finished product will look like the old foil-wrapped bars when you wrap your personalized wrapper on top. Without the foil, the brown Hershey wrapper will be visible from each end under your personalized wrapper looking unsightly. For an elegant look, simply wrap the factory wrapped candy bar with our foil sheets and apply your customized wrapper.
►► HOW TO
Simply use our pre-cut foil sheet to wrap around the candy bar just like you would wrap a shirt box with wrapping paper. No tape is needed. Just wrap around the factory wrapping and apply pressure at the corners. The paper back will crease as you wrap and put slight pressure on the folds. We have an instructional video you can see here: www.PrintingForParties.com/foils
▬▬▬▬▬▬▬▬▬▬▬▬▬▬▬▬▬▬▬▬▬▬▬▬▬▬▬▬▬▬▬▬▬▬
HAVE ANY QUESTIONS?
Contact us for prompt assistance: https://etsy.me/2UdCL6n
▬▬▬▬▬▬▬▬▬▬▬▬▬▬▬▬▬▬▬▬▬▬▬▬▬▬▬▬▬▬▬▬▬▬
©2019 Printing For Parties – www.PrintingForParties.com
All rights reserved