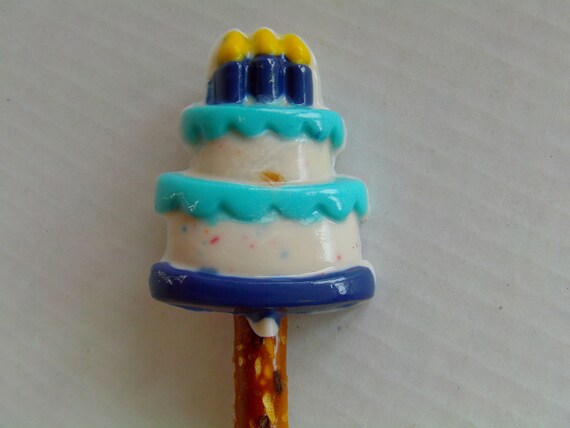 Product Info
What could be better than a birthday cake pretzel pop that tastes like birthday cake???
If you like birthday cake flavored ice cream you will love this! (Looks like confetti!) We hand make each in our licensed kitchen, will personalize with colors of your choice (when you order send a note specifying which colors you would like) and we will also choose one of those colors for a decorative ribbon tie as we individually bag them!
These are wonderful for a table decoration, favors or to send and surprise someone to make them feel extra special on their birthday!
We offer a set of 6 but we can make a special order of more or less, message us for details!
These look wonderful paired with our birthday balloon, cupcake or hat!
Our shipping policy is if the actual shipping price is less than what you paid we refund you the difference, if it more we cover it! Also, if you are not pleased in any way we will either refund or resend!
Ingredients: Enriched wheat flour, sugar, partially hydrogenated palm kernel oil, whole milk solids, reduced mineral oil, malt extract, salt, leavening and caramel color. May contain cocoa, vanilla, artificial flavor and colors.
Allergy Warnings: Contains wheat, milk and soy. May contain traces of peanuts.