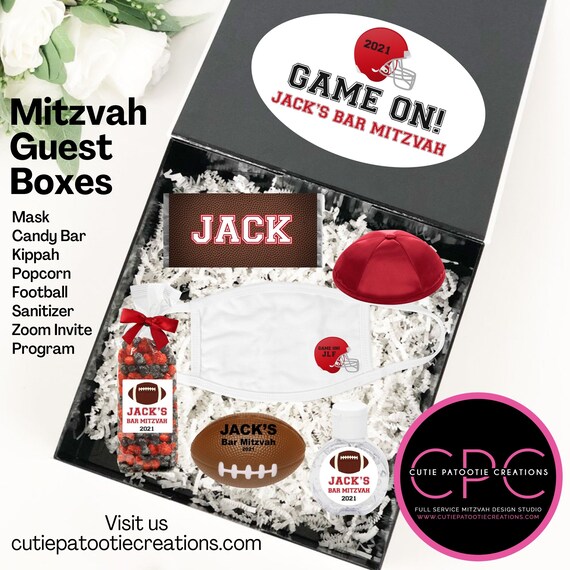 Bar and Bat Mitzvah Guest Boxes - Virtual Zoom Mitzvah Service - Custom Designed for You and Your Budget by Cutie Patootie Creations
By Cutie Patootie Creations
Product Info
Planning a Virtual Zoom Bar or Bat Mitzvah and looking to send Mitzvah Guests Boxes with your child's favorite goodies? Cutie Patootie Creations can custom design you a Guest Box that works within your budget. We can ship directly to your guests nationwide or send to you for you to deliver locally.
Sending customized boxes to your guests is a great way to make people feel truly a part of your milestone celebration.
HOW DOES IT WORK?
-Scroll through the photos above to get an idea of just a few of our most popular gift items
-Come up with a budget that will work for you
-Decide what products you would like to include within your box
-We can personalize your gift items with your logo design OR we offer a variety of FREE logo designs to choose from (see above)
-Contact us to discuss your box options, pricing, etc.
>>> cutiepatootiesnc (at) gmail.com, 704.776.0738 or Etsy convo
-Once we discuss and come up with a box that works for you, we will get started
-We will provide an excel spreadsheet for you to input your guest addresses
-If you would like for us to send all of your boxes that is fine, if just a few and then the rest for you to deliver locally, that's ok too!
-We are very flexible and easy to work with. We've gotten rave reviews on our boxes.
QUESTIONS?
Contact us!
Visit our website direct: www.cutiepatootiecreations.com