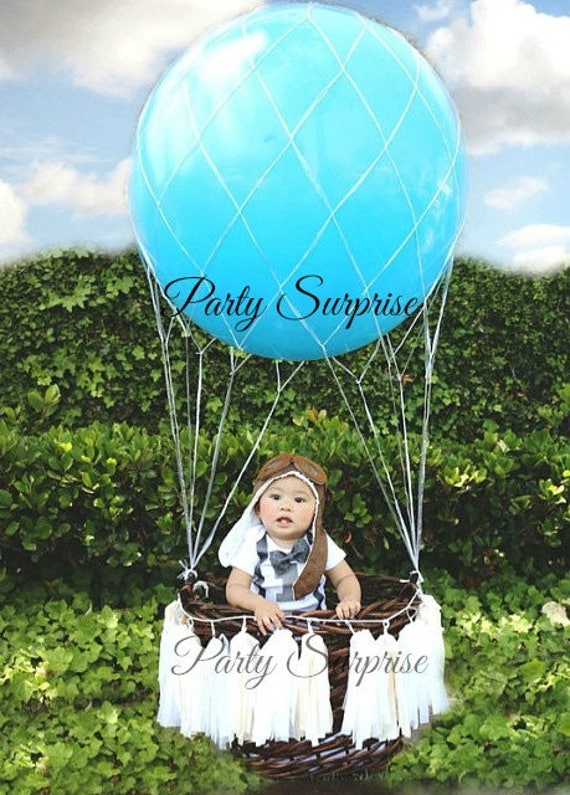 Hot Air Balloon Net 36" Hot Air Balloon Net 28 Colors Photo Shoot,Centerpiece, Party Supplies Balloon Net,Wedding Bat Mitzvah Gala Made USA
By Party Surprise, Etsy
Product Info
36" Balloon Nets, 36" Balloons
Pink or Blue Hot Air balloons latex 11"
How adorable will this be at your party! Hot air balloons - simply place the net over the balloon.
Decorate with baskets, ribbons, bows, sprays......
**** Please let me know which COLOR balloon you would in the Personalization box, further down.
Ivory Silk is no longer available. I do not offer custom text or graphics on balloons.
The nets are made of clear poly and are very light, making it so easy for the balloons to float. Fill your 36" balloon with helium, then slip into net. Home helium tanks are not recommended due to the low ratio of helium to air.
Photos 1, 6, 7, 8, and 9 above are from happy customers.
*******************************************
HOW TO ORDER:
1. Go to the drop down in the order box, click the number of balloons/nets for the number you would like.
Add to your cart.
2. If adding pink or blue hot air balloons latex 11", photo 2 above, select from the same drop down. Add to your cart.
3. Repeat to order additional items.
4. Remember to leave your balloon color choice(s) in the Personalization box when you are checking out. Use charts above, photos 6 & 7 to select from.
PHOTOS ABOVE:
*Select colors from charts above, photos 3 & 4.
*Customer photos: # Number 1 above is Robin's Egg Blue 36"; photo #6 is Pink Rose 36", photo #7 is Ruby Red 36", #8 is burgundy 36", #9 is rose gold.
5. Custom writing on balloons is not offered.
***See my other size hot air balloon options, including hot air balloon centerpieces, in sizes - 16/17", 24", 30", 36", some charts shown above:
www.etsy.com/shop/PartySurprise?ref=shop_sugg&search_query=hot+air
******************************
Balloon Information:
* Inflate with helium if you want them to float. They can also be inflated with air but will not float.
* Home helium tanks are not recommended due to the low ratio of helium to air.
* All balloons made by Qualatex, Betallatex, and Tuff Tex, the professional's brands of choice, made in the USA; far superior quality to balloons made outside of the USA.
* Do not leave with children who are unsupervised due to choking and suffocation hazard.
*****************************
Currently Unavailable in 36", but may be available in 24":
Eucalhyptus
Ivory Silk
Pastel Matte Green
Pastel Matte Pink
Pastel Matte Yellow
Pastel Matte Peach Blush
*****************************
***At Party Surprise we take pride in the quality of our products. We take the time to thoroughly inspect every jumbo balloon we ship. Each balloon is individually inspected for color, size, pinholes, and any other defects, as well as going through an air test in order to ensure that you will receive a perfect balloon.
Balloons are shipped flat and are non-refundable.
For more colors and sizes:
www.etsy.com/shop/PartySurprise?ref=shop_sugg&search_query=color+charts
***********************************
Options:
Nets & balloons, use color charts photo 5&6 above:
1 net & 1 balloon $12.55
1 net & 2 balloons $17.75
1 net & 3 balloons $22.95
2 nets & 2 balloons $24.20
3 nets & 3 balloons $36.65 (includes free standard shipping)
5 nets & 5 balloons $61.25 (includes free standard shipping)
Blue or pink hot air balloons latex 11" - select from same drop down in order box
**************************************
REVIEWS ON THIS ITEM:
5 STARS, Amy
5 STARS, Traci
5 STARS, Erinn
5 STARS, "Everything arrived quickly and as ordered. Easy to do business with.", Erin
5 STARS, "Pictures turned out perfect! Thank you!", Mallory
5 STARS, Toni
5 STARS, "So so so so cute!!", Kimberly
5 STARS, "Came as pictured. Shipped promptly. Thank you", Helen
5 STARS, "Everything arrived nicely. We will be using it on July 8th; so will update after actually using the net and balloon.", Amber
5 STARS, "The net was easy to work with and it gave it that perfect touch to our hot air balloon thank you