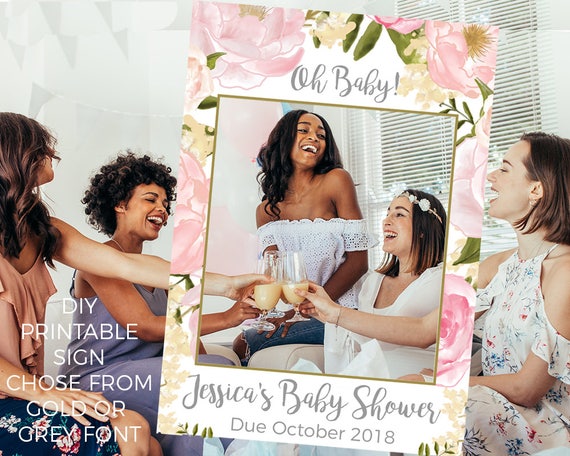 baby shower decoration, baby shower photo prop, baby shower photo booth frame, baby shower photo frame, instagram frame, baby shower frame
By Whim and Willow Studio
Product Info
***PLEASE READ - This listing is for a digital file sent to you as a high quality PDF for you to download and print at your preferred local print shop. YOU WILL NOT RECEIVE A PHYSICAL SIGN, NOTHING WILL BE SHIPPED TO YOU***
Personalized custom wedding photo prop sign.
This is not an editable template, when you place your order please leave the personalized details in the "notes to seller" box during checkout for your sign to be created.
You will also receive FREE THANK YOU TAGS, Non editable
Available with Grey/Silver or gold font, just chose your choice from the drop down menu along with your choice of size:
A1 (Aust/NZ/UK/Asia customers)
or 24x36" or 20x30" (North American Customers only)
PLEASE NOTE : 20x30" will be much more affordable to print and create, however the cut out space will be smaller Approx 16x20"
HOW TO CREATE:
Print the frame as a poster and attach it to a foam board, then cut the center out using a utility/Stanley knife.
Full instructions will be printed on the sign itself in the box you need to cut, as well as a few suggestions, but not limited to, ideas and links of where to purchase the foam boards to mount your poster once you have it printed.
ALTERNATIVELY, have it printed directly onto a foam board and cut. This will be more expensive though than the DIY option. It will be more affordable to DIY the frame than to have it made for you by your local print shop.
FOR MORE IN THIS COLLECTION:
For more in the PINK collection
***signs***
For more in this collection :
Baby shower sign - https://www.etsy.com/au/listing/287064905
Small table signs baby shower GREY - https://www.etsy.com/au/listing/273566862
Small table signs baby shower GOLD - https://www.etsy.com/au/listing/469389839
Mimosa bar sign - https://www.etsy.com/au/listing/349264346
Baby shower invitation - https://www.etsy.com/au/listing/400435777
Create your own sign - https://www.etsy.com/au/listing/291964583
Make yourself the addressee sign - https://www.etsy.com/au/listing/475897278/
Guest Book signs - https://www.etsy.com/au/listing/475899264
MOMosa sign - https://www.etsy.com/au/listing/512326124/
Selfie station sign - https://www.etsy.com/au/listing/519136034
Photo frame prop - https://www.etsy.com/au/listing/569440922
***Games***
Guess baby's birthday - https://www.etsy.com/au/listing/473254555
Advice for the Mom/mum to be cards- https://www.etsy.com/au/listing/386401502
What's in your purse game - https://www.etsy.com/au/listing/488879597
Books for baby invite inserts - https://www.etsy.com/au/listing/237817072/
Dear baby cards - https://www.etsy.com/au/listing/476683608
Late night diapers - https://www.etsy.com/au/listing/493337413
Clothes pin game - https://www.etsy.com/au/listing/483697646/
How many kisses - https://www.etsy.com/au/listing/491289818
Diaper raffle tickets AND sign - https://www.etsy.com/au/listing/521259055
BABY BLUE collection:
BABY BLUE collection:
BLUE baby shower welcome sign - https://www.etsy.com/au/listing/471957310
Create your own 5x7, 8x10, or 16x20 sign - https://www.etsy.com/au/listing/470523040/
Table signs - https://www.etsy.com/au/listing/491092251
Momosa bar - https://www.etsy.com/au/listing/525707263/
***Invitations***
Baby shower invitation - https://www.etsy.com/au/listing/400435777
***Games***
Dear baby game - https://www.etsy.com/au/listing/491099757
Make yourself the addressee sign - https://www.etsy.com/au/listing/479832216
Late night diapers - https://www.etsy.com/au/listing/493337413
Guess baby's due date calendar - https://www.etsy.com/au/listing/457718050/
Clothes pin game - https://www.etsy.com/au/listing/483697646/
LAVENDER COLLECTION:
Welcome sign https://www.etsy.com/au/listing/287064905
Bridal addressee sign - https://www.etsy.com/au/listing/515263893
Due date calendar game https://www.etsy.com/au/listing/498784242
*** Do NOT download your poster to your phone or tablet first and then upload to your printing site. This will dramatically decrease the resolution of the file and will cause it to be pixelated and blurry. You MUST download it on a computer and upload via your computer ***
Illustration by CreateTheCut
social media frame Hens night Photo Prop, Photo Prop Frame, party photo prop, photo props, party decorations, Hens photo frame, Hens party photo frame, Instagram frame, photo frame, hens decorations hens night frame
Baby shower Photo, Prop Photo, Prop Frame, Baby shower photo prop, Baby shower photo, props Baby shower, baby shower decor, photo frame, Baby shower frame, Baby shower Photo, Prop Photo, Prop Frame, Baby shower photo prop, Baby shower photo, props Baby shower, baby shower decor, photo frame, Baby shower frame,shower photo frame baby shower instagram frame