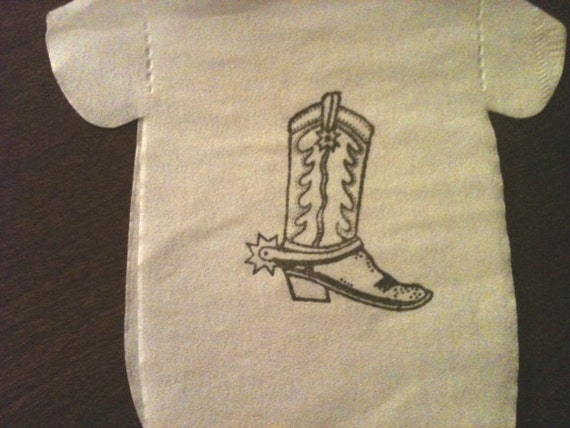 Baby shower 'shirt' or 'bib' shaped napkins or banner in white, ivory, light blue or light pink. Hand stamped with brown cowboy boot.
By wrapsidazy
Product Info
Having a cowboy or western-themed baby shower? Let me help you add that finishing touch in a unique way. These baby shower napkins are handmade by me one by one. Each one is stamped with a rugged cowboy boot in dark brown water-proof ink. Each napkin is cut into the shape of a baby shirt or a baby bib. Napkin colors are white, ivory, light pink or light blue. Tell me your napkin color choice when you check out. =)
Use these as napkins of course, AND hang a few over a ribbon to make an instant banner! The last photo gives you an idea of what my napkins look like hung over a ribbon. With these, instead of hanging over a ribbon, try hanging over a length of twine to add to the western theme. :)
Each napkin is 6" long and 5" across and opens up as in one of the pictures in the listing.
Each one is very slightly different as I make each one by hand.
Actual emails from satisfied customers:
"The napkins couldn't have been more precious! I hung [some] along the edge of the table over ribbon and I it was the mom-to-be's favorite thing!"
"So stinkin' cute!!"
"I couldn't even try to describe how cute these are,,, soooo pleased. Tk u:) "
Use as actual napkins or decoration or even frame one for the nursery.
Non-smoker in a non-smoking home.