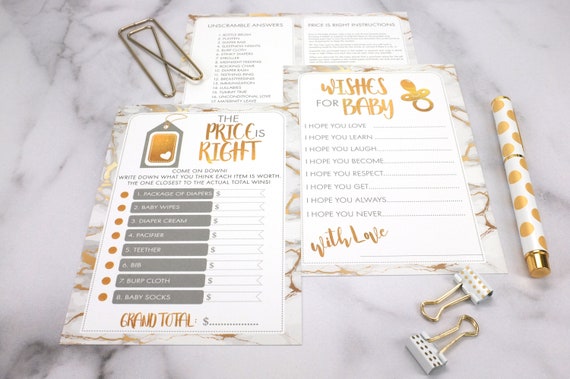 Baby Shower Game Bundle | 40 Cards | Baby Shower Price Is Right | Baby Shower Word Unscramble | Notes of Advice | Wishes for Baby
By CANDLES & FAVORS, INC.
Product Info
Baby shower game bundle Information:
Our baby shower game pack is a unique baby shower activity to enjoy with your guests at your next Baby Shower. Just hand out two of the forty game cards to each of your guests along with a pen or pencil (not included)!
Forty (40) cards per pack.
Two games per card, games are printed on the front and back.
Unique artistic design from our creative graphic designers.
Each card measures 5 x 7 inches and is vibrant and large.
Cards are printed with our digital press on 14pt card stock, they are not glossy so they can be easily written on with pen, pencil or markers (Not Included).
Unique and Trendy Game Design:
Cards are printed with our digital press on high-quality heavy card stock with a unique marble background with faux gold highlights and text. This design will work with any themed baby shower and looks very elegant and trendy! The classy design makes a wonderful keepsake for the parents to be to keep and display for many years to come!
Baby shower Game 1 - Baby Shower Price Is Right:
See which of your invited baby shower guests can guess the closest price to each of the baby shower items listed.
Baby Shower Game 2 - Baby Shower Word Unscramble:
Can you and the invited guests unscramble the twenty (20) words listed on this card?
Baby Shower Activity 1 - Mommy To Be Notes Of Advice:
These elegantly designed cards give your guests the chance to give the gift of experience or knowledge to the new parents, you just can't beat old fashioned know-how!
Baby Shower Activity 2 - Wishes For Baby:
Give your guests the perfect opportunity to let the new parents know there well wishes, hopes, and dreams for the little one on the way.