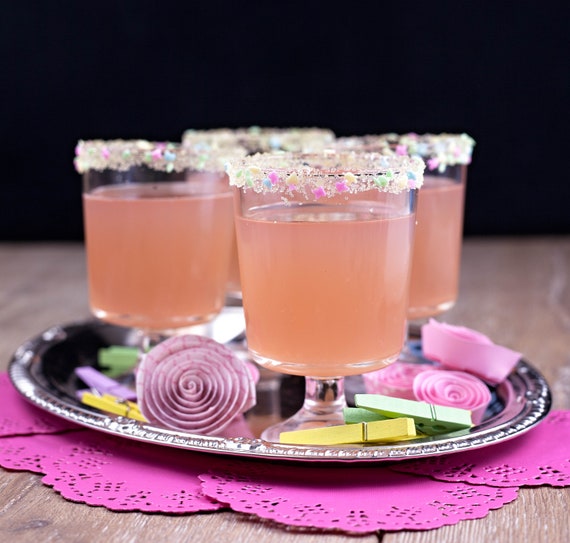 Rimming Sugar - baby shower sprinkles for alcohol baby shower drinks, colored cocktail rim sugar with pastel pink, yellow, green sprinkles
By Dell Cove Spice Co
Product Info
Dell Cove® Baby Shower Cocktail rimming sugar adds sweet sparkle to your alcohol baby shower cocktails and mocktails. This drink garnish has a soft pastel yellow sugar base, with pastel-colored baby shower candy sprinkles in the shape of tiny ducks, bunnies and eggs. Garnish pink lemonade or blueberry spritzers for the kids, or add a colorful garnish to pink or blue martinis for the adults in the crowd. Or use to decorate cookies or cupcakes!
SIZES: Comes in a 2.5 oz resealable bag and each will rim 50 standard martini glasses. Need this in bulk? Select the BULK pack, which will give you FIVE (5) pouches, with enough cocktail sugar to rim 250 standard martini glasses. We also include an instruction card on how to rim a drink glass and access to our recipe site. (Don't use water to moisten the rim! Use a simple syrup.) Want step-by-step directions with photos? See our post here: http://try.dellcovespices.com/how-to-rim-a-glass-with-rim-sugar/
SO HOW DO I USE THIS SUGAR?
We include directions with each order. It's super simple: All you need is a plate; a bowl; and something to moisten the rim of your glass. With our rim sugars with candies, such as this one, you can use an agave syrup or even a corn syrup to help the sugar and candies really stick to the rim. (You need the rim to be sticky! Do not use water or a lime wedge - the water will dissolve your sugar, and the lime juice won't allow the candies to stick to the glass rim.)
WILL YOUR SUGARS STICK TO PLASTIC GLASSES?
Yes.
HOW DO I STORE THIS SUGAR?
Please store your cocktail sugar in a cool, dark and dry location. (Think kitchen cabinet, not refrigerator.)
Any questions, just hit the "Ask a Question" button next to the price and we will get back to you within 24 hours. Thanks for shopping at Dell Cove Spices & More®!