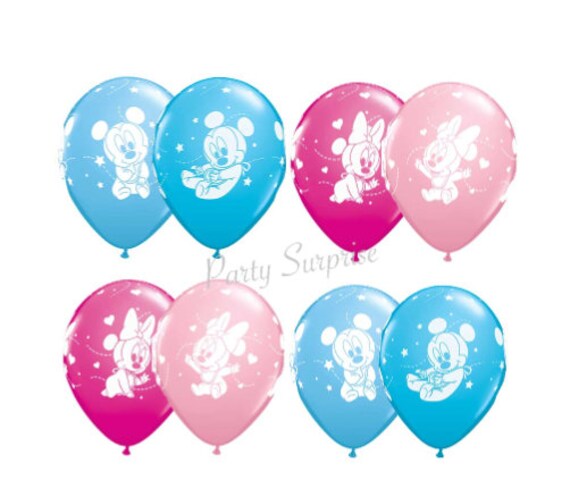 Baby Mickey Baby Minnie Balloons Mickey Minnie Baby Shower Balloons Blue Pink Gender Reveal Mouse Balloons Made in USA
By Party Surprise, Etsy
Product Info
Baby Minnie & Mickey latex 11"
Balloon Information:
* Made by Qualatex, in the USA, far superior quality to those from abroad.
* Baby Minnie and/or Baby Mickey BUBBLES 22" photos 4 & 5 above.
* Inflate with helium or air. No helium needed if using as a photo balloon wall/back drop. Simply use glue dots or tape to attach the balloons together and to the wall.
* Home helium tanks are not recommended due to the low ratio of helium to air.
* Balloons shipped flat.
* Do not leave balloons with children who are unsupervised due to choking and suffocation hazard.
*******************************
HOW TO ORDER:
* Select the number of balloons from the DROP DOWNS in the ORDER box.
* If you wish to also order a bubble balloon, photos 2 & 3 above, select from the same drop down and add to your cart.
* From the other Drop Down in the order box, select Mickey blue, Minnie pink, half of each.
* Add to your cart.
* Repeat to order additional items.
See my other Minnie & Mickey items, some shown above:
www.etsy.com/shop/PartySurprise?ref=shop_sugg&search_query=mouse
* To order custom Mickey or Minnie cupcake toppers and banners, please contact me.
********************************
Don't forget your balloons, balloon arch/garland kits, photo prop sets, fancy straws, tableware sets, mini popcorn boxes, Euro gift bags, gift/favor/treat bags, tissue tassel garlands & balloon tails, custom wedding confetti wands, party tableware, disposable cutlery, cake toppers, and cupcake toppers & wrappers - I have what you want!
Balloon color and size charts here:
www.etsy.com/shop/PartySurprise?ref=hdr_shop_menu&search_query=color+chart
Confetti Balloons & Table Confetti:
www.etsy.com/shop/PartySurprise?ref=shop_sugg§ion_id=25395318
Hot Air Balloons:
www.etsy.com/shop/PartySurprise?ref=shop_sugg&search_query=hot+air+balloon
Balloon arches/garlands:
www.etsy.com/shop/PartySurprise?ref=shop_sugg&search_query=garland
Photo Prop Sets:
www.etsy.com/shop/PartySurprise?ref=shop_sugg§ion_id=22959761
Disposable Cutlery:
www.etsy.com/shop/PartySurprise?ref=shop_sugg&search_query=cutlery
Fancy Straws: www.etsy.com/shop/PartySurprise?ref=hdr_shop_menu§ion_id=14449328
Party Tableware:
www.etsy.com/shop/PartySurprise?ref=shop_sugg§ion_id=15478643
Mini Popcorn Boxes: www.etsy.com/shop/PartySurprise?ref=hdr_shop_menu§ion_id=15478643
Tassel Garlands: www.etsy.com/shop/PartySurprise/items?ref=pagination§ion_id=19770755
Custom Number Cards:
www.etsy.com/shop/PartySurprise/items?ref=pagination§ion_id=19936436
Cupcake Wrappers: www.etsy.com/shop/PartySurprise?ref=hdr_shop_menu&search_query=cupcake+wrappers
Cupcake Toppers: www.etsy.com/shop/PartySurprise?ref=hdr_shop_menu&search_query=cupcake+topper
Treat & Favor Bags: www.etsy.com/shop/PartySurprise?ref=hdr_user_menu-shop&search_query=treat+bags