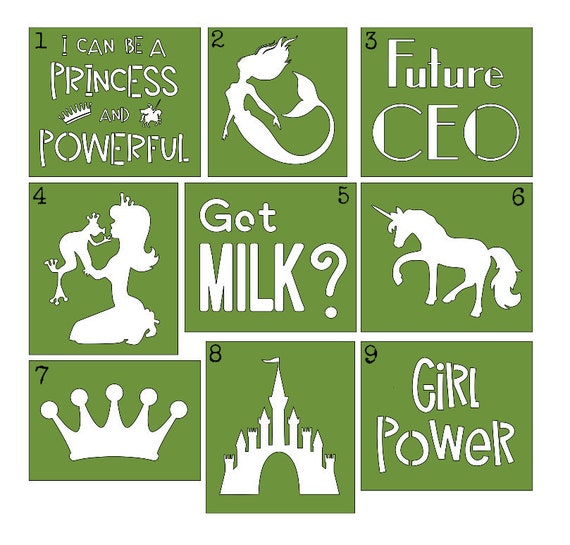 Baby Girls Stencils, Stencils for Baby Shower, Girl Power Baby Onesie, Onesie Decorating Station, Onesie Stencil Kit, Girl Power Stencils
By QueenCityCrafty
Product Info
Who wouldn't love to be able to make custom onesies, shirts, bibs, burb cloths and more at a shower?!? Leave the mother to be with something she can use. Well, you can do all that with these custom Baby Girls Stencils. The stencils are plastic and can be used multiple times.
Your stencils will arrive clear (the stencils pictured above are green to show the shapes clearly). This set includes 16 girls stencils. The average size of the stencil (including the outside of the shape) is 5.3" x 5".
You can choose to order these stencils from a set of 5, 10, or All stencils. **Please indicate your selections upon checkout - if you do not indicate your selections, you will be sent an assortment of my choosing**
I will also include directions and tips/tricks to get the best results when painting on fabric.
If you have a shape in mind that you do not see, feel free to message me to see if I can make it for you. I can also make you a larger stencil for any project you have in mind!
This is great for an activity at a Baby Shower or even something fun to do with your kids!!
**If you would like a selection of stencils from my various sets, I have the following listings for custom stencils available:
10 Stencils - https://www.etsy.com/listing/244138732/10-stencils-of-your-choice?ref=shop_home_active_1
15 Stencils - https://www.etsy.com/listing/253394536/15-stencils-of-your-choice?ref=shop_home_active_2
20 Stencils - https://www.etsy.com/listing/253291315/20-stencils-of-your-choice?ref=shop_home_active_3
You could also use these to stencil your walls, paint on canvas or any other project you may have.