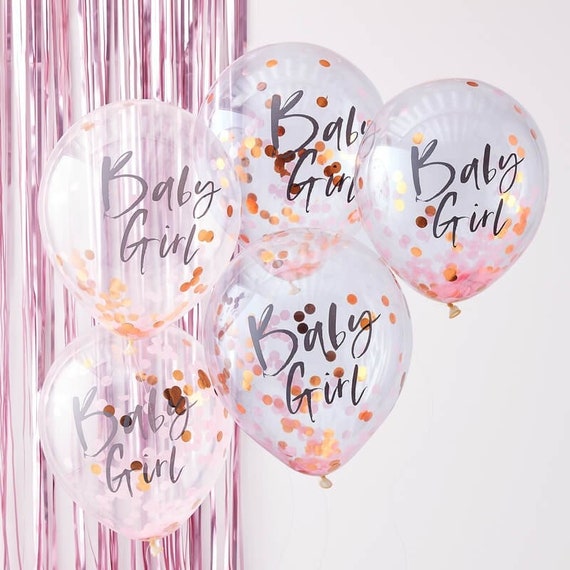 Baby Girl Baby Shower Balloons, Rose Gold and Pink Baby Girl Balloons
By EnFete
Product Info
The cutest balloons for an adorable baby shower our 'Baby Girl ' balloon will be a fun finishing touch to your party. Wow the mom to be and have these dotted around your venue for a dreamy baby shower! Filled with pink and rose gold confetti!
Set of 5 Balloons Option:
Blow these balloons up with helium and air, then shake to wake the confetti. Place in your venue with our 'Oh Baby' backdrop for a beautiful centerpiece for your celebrations.
Each pack contains five confetti balloons measuring 12" (Diameter).
Balloons are shipped flat - just add air or helium on arrival!
FIVE clear 12-inch balloons filled with ROUND PINK AND ROSE GOLD CONFETTI printed with Baby Girl.
Tails Options:
The tails are ordered separately from the balloons in the drop-down menu. You must add a set of balloons and a set of tails to your order (cart) to receive both.
Please note, when filled with helium confetti settles and can be shaken to help increase 'static' to stick to sides Filling with plain air gives a more dramatic look and more confetti sticks to the sides (You can add a few puffs of regular air to the balloons before helium for best results!). Not a toy!
Lots more Baby Shower Decor in the shop - everything from shabby chic to sleek and modern. You can complete your WHOLE PARTY with EnFete - take a stroll around the shop!
Subscribe to receive info on new items & sales, party tips, and free printables at: