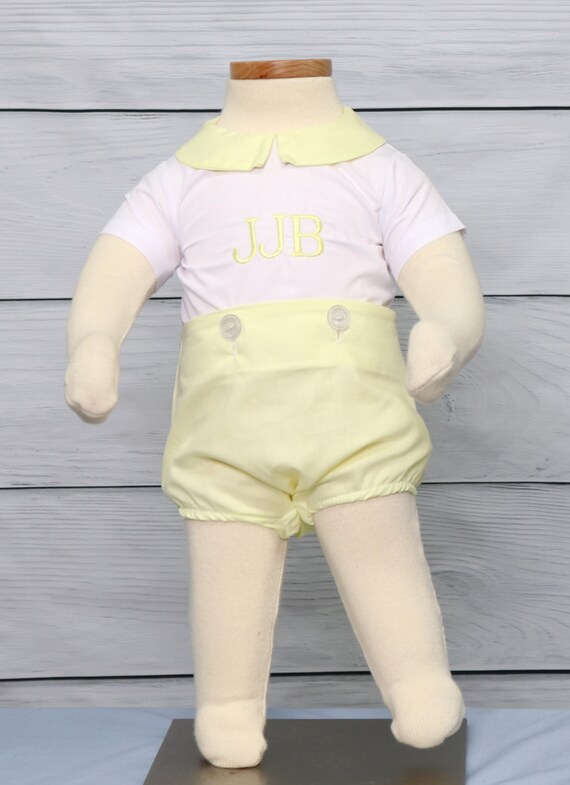 Baby boy coming home outfit summer, Newborn Boy Coming Home Outfit, Baby Boy Summer Outfit, Personalized Romper 292107
By Zuli Kids
Product Info
Personalized Easter Shirt in this baby boy bubble romper is available in matching Easter outfits from our baby boutique. Newborn boy clothes and baby boy clothes are available in brother brother matching clothing.
This little boys button pants is yellow and has a white shirt with yellow collar. This baby boy clothes can come with or without a monogram.
Personalized Easter Shirt | Baby Boy Bubble |Baby Boy Easter Outfit | Baby Boy Clothes|Baby Bubble Romper | Matching Easter Outfit
We use 2 measurements so you can check to see what size you need. I suggest that you measure a garment that fits him or will fit him when you need him to wear it since we have a no return policy on custom made garments.
We use chest.............measured from armpit to armpit
Crotch........................measured from the back of the neck where the top button would be to the center of the crotch of the garment.
Measurements are approximate. Please see photo section for measurement chart.
AVAILABLE MOST NIGHTS TO 11:00 PM CENTRAL STANDARD TIME TO ANSWER YOUR INQUIRY! IF YOU ARE INTERESTED IN A GARMENT WITH A DIFFERENT APPLIQUE THAN THE ONE THAT IS ON IT, PLEASE ASK. WE DO LOTS OF CUSTOM ORDERS FOR BIRTHDAYS AND SPECIAL OCCASIONS. THANK YOU FOR VISITING ZULI KIDS BOUTIQUE.
POLICY
WE DO NOT GO BY AGE OR SIZE. IF YOU HAVE ANY DOUBTS ABOUT SIZING, PLEASE ASK FOR MEASUREMENTS OR CHECK MEASUREMENTS IN OUR PRODUCT DESCRIPTION BEFORE YOU ORDER. MEASURE SOMETHING THAT FITS YOUR CHILD AND COMPARE TO PREVENT ORDERING THE WRONG SIZE. ALL OUR GARMENTS ARE CUSTOM MADE AND WE DO NOT TAKE RETURNS OR EXCHANGE SIZES AND WE DO NOT GIVE REFUNDS! IF FOR SOME REASON, THERE IS A FLAW IN THE GARMENT, WE WILL REPAIR OR REPLACE AFTER THE ITEM IS RETURNED.
WE SHIP USPO BECAUSE WE FEEL IT IS THE MOST ECONOMICAL WAY TO SHIP SMALL PACKAGES. WE ARE NOT RESPONSIBLE FOR PACKAGES LOST BY THE USPO. IF WE HAVE A TRACKING NUMBER, WE HAVE PROOF THAT WE SHIPPED IT. NO REFUNDS WILL BE GIVEN FOR LOST PACKAGES. IF YOU WOULD LIKE YOUR PACKAGE SHIPPED A DIFFERENT WAY, PLEASE CONTACT US TO PAY FOR UPS OR FED EX.
TRACKING NUMBERS ARE NOT AVAILABLE VIA USPS FOR SHIPMENTS OUT OF THE COUNTRY. THEY GIVE US A "TRACKING NUMBER" BUT THAT IS ONLY OUR RECEIPT. THEY DO NOT ACTUALLY PROVIDE TRACKING ON THESE PACKAGES. BECAUSE OF THIS, WE ARE NOT RESPONSIBLE FOR LOST ITEMS SHIPPED OUT OF THE COUNTRY. AS LONG AS WE HAVE A POSTAL RECEIPT THAT SHOWS THAT WE SHIPPED IT TO THE CORRECT ADDRESS, WE WILL NOT BE RESPONSIBLE. IF YOU ARE OUT OF THE COUNTRY, PLEASE KNOW THAT YOU ARE TAKING A CHANCE BY ORDERING.