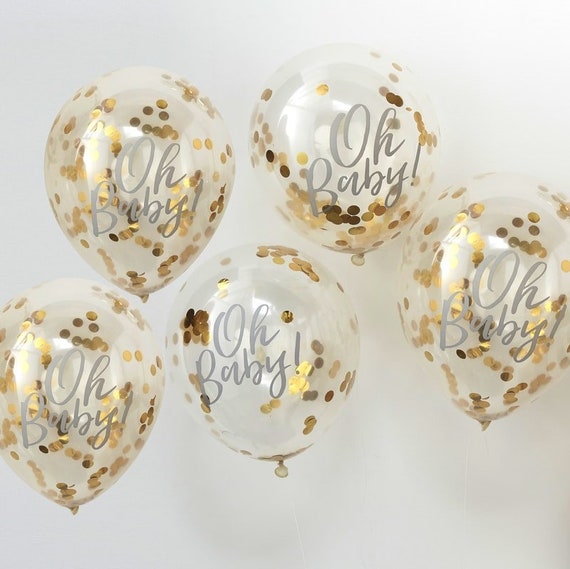 Oh Baby Balloons, Gold Confetti Balloons
By EnFete
Product Info
'Oh Baby' gold confetti balloons are a great way to decorate any room. The gold confetti shines away inside the balloons adding sparkle to your baby shower. A stunning focal point - These balloons are very stylish and will be loved by everyone.
Set of 5 Balloons Option:
Blow these balloons up with helium and air, then shake to wake the confetti. Place in your venue with our 'Oh Baby' backdrop for a beautiful centerpiece for your celebrations.
Each pack contains five confetti balloons measuring 12" (Diameter).
Balloons are shipped flat - just add air or helium on arrival!
HOW MANY?
FIVE clear 12-inch balloons filled with ROUND GOLD CONFETTI and printed with Oh Baby!
IS THE TAIL INCLUDED with the balloons?
The tails are ordered separately from the balloons in the drop-down menu. You must add a set of balloons and a set of tails to your order (cart) to receive both.
Sets of 5 Tails Options:
Select the color of tails from the drop-down. This option is only the tails, and are sold in packs of 5 tails in various colors. They are each 3 feet long.
Please note, when filled with helium confetti settles and can be shaken to help increase 'static' to stick to sides Filling with a puff plain air first, then helium gives a more dramatic look and more confetti sticks to the sides. Not a toy!
Lots more matching OH BABY Themed items in the shop! Complete your WHOLE party with Enfete!
Subscribe for updates, party tips, and free printables at: